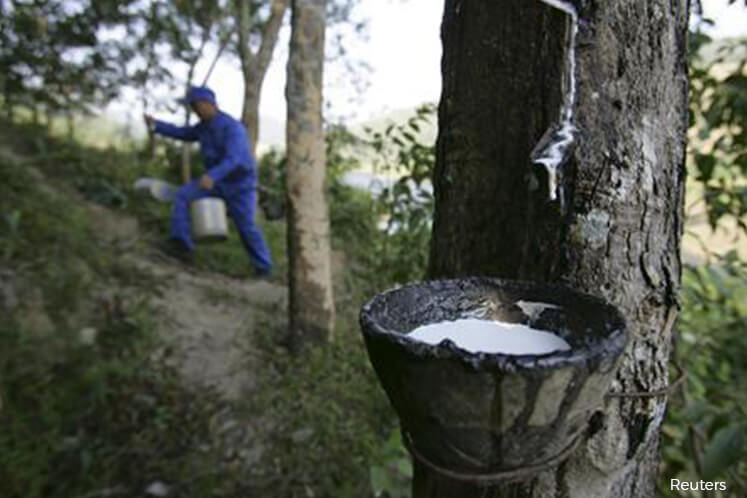 KUALA LUMPUR (Sept 13): Rubber prices are likely to continue rising in the near term and may reach heights previously seen earlier this year, according to technical analysts.
"Current prices appear to be at the beginning of a bullish trend," said Jupiter Securities chief market strategist Benny Lee.
With reference to the Tokyo Commodities Exchange prices for rubber (TOCOM RSS3), Lee projected that rubber prices are likely to breach the 278 yen resistance level next year and may see the same heights reached earlier this year of 340 yen.
Speaking at the Global Rubber Conference 2017 today, Lee said Malaysian rubber prices are likely to follow this trend.
Dar Wong, investment director at Singaporean Dektos Investment Corp, concurred that rubber prices are likely to trend upward as soon as next week
However, Wong cautioned that any sharp increase in rubber prices is likely to see an equally sharp downward correction.
The conference was told that world demand for natural rubber is expected to grow 1.2% to 12.38 million tonnes this year while world supply is expected to grow by 5% to 12.88 million tonnes.
Dr Nguyen Ngoc Bich, secretary-general of the Association of Natural Rubber Producing Countries, said Malaysia is expected to see 50,000 hectares of land planted with rubber throughout this year while rubber production is estimated at 700 tonnes.
In a report today, CIMB report quoted the Malaysian Rubber Glove Manufacturers Association as saying that the prices of latex tend to increase closer towards the International Tripartite Rubber Council meeting, which will be held on Sept 15.
This is due to the anticipation of price fixing and speculation, it said.