This article first appeared in The Edge Malaysia Weekly, on November 1, 2021 - November 07, 2021.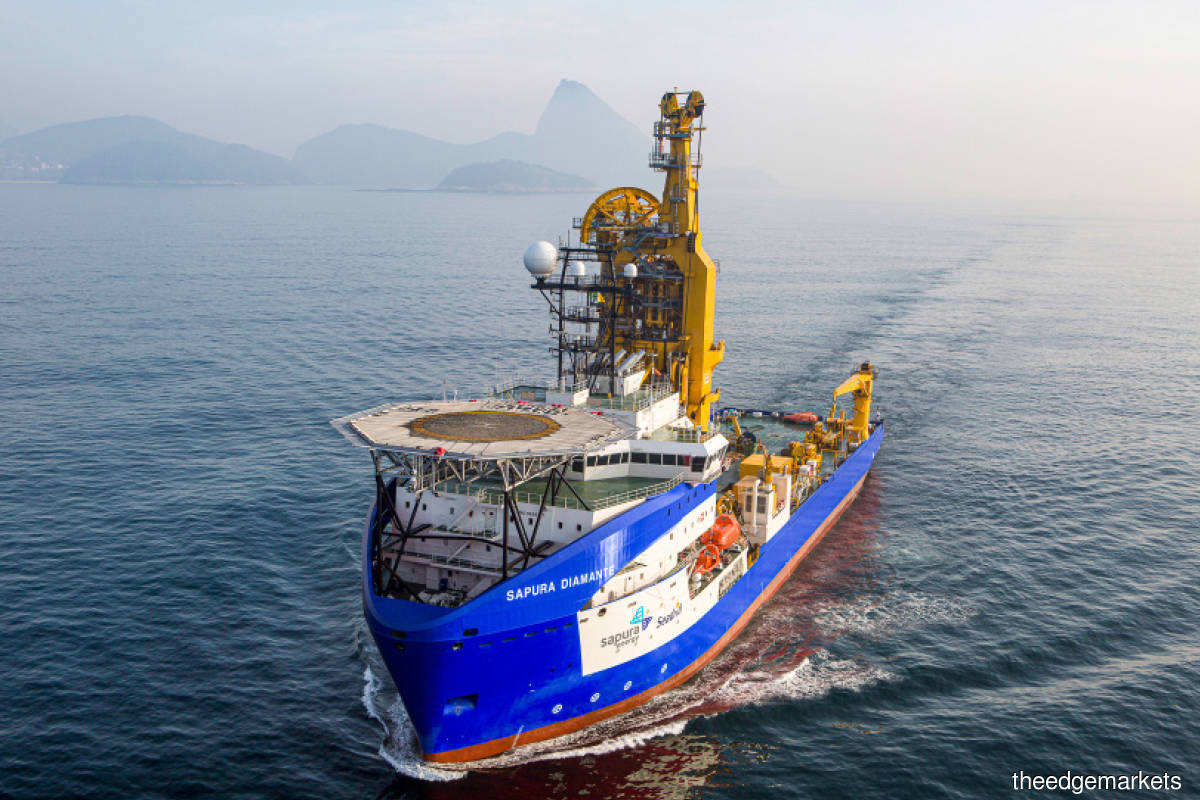 AFTER Sapura Energy Bhd's bombshell RM1.52 billion loss in its latest financial quarter, concerns are growing that the debt-laden group will need yet another capital injection to pay its vendors.
There is also market talk that the offshore infrastructure contractor is negotiating with the banks to restructure its long-term debt of RM10 billion.
A cash squeeze amid pending claims from clients of more than RM460 million in Covid-19-related costs and other change orders to the tune of about RM1 billion are also in the background of the financial woes that Sapura Energy has been struggling with for the past five years, if not longer.
Its group CEO Datuk Mohd Anuar Taib, however, is hopeful that its discussions with clients on the claims will bear fruit. Consequently, he would not have to ask for more capital from shareholders knowing that Sapura Energy made a massive cash call in 2018, raising RM4 billion.
"It is too early to say," he tells The Edge when asked about the likelihood of another recapitalisation exercise. "As it is, I think it's too early to say what will be the outcome of all the conversations we are having [with our counterparties]. In essence, there are many things we can do to solve that … There are a lot of opportunities there for us to [resolve the claims]."
Anuar, who joined Sapura Energy a little over a year ago, did not hide the fact that the group is facing a short-term liquidity mismatch due to the delay in the collection of claims.
"If you have been paying [vendors] and not having revenue coming in, it's a challenge. We are more globally exposed than many Malaysian O&G contractors; we have a breadth of things that we do," he explains.
"[But] we have never missed any mandatory payment of any of our [financial obligations]. And with the vendors, ongoing projects are paid — if not within time, slightly behind, but we paid. For projects where clients have not paid, we know we have to put a structured payment with them. We are trying our best."
Dragged by past projects, Covid-19
The bleeding in 2QFY2022 came largely from Sapura Energy's engineering and construction (E&C) division, due to provision for foreseeable losses and higher project costs from the offshore wind farm piling works in Taiwan, and another project in India. The provisions were the result of a review of all its projects and bids since July, according to Anuar.
Analysts have suggested that the Taiwan project was mainly affected by soil conditions, which was different from what was understood when Sapura Energy secured the contract in 2019.
"That [soil condition] is part of the discussions [with the client]. People do speculate but at the end of the day, it's [due to] many factors," says Anuar.
The project review is to ensure that, in future, Sapura Energy only gets involved in viable projects with better risk management put in place, he adds. (See Q&A.)
But sceptics say it remains to be seen if there are more negative surprises in store.
Financials stretched
Recall that it was just three years ago that shareholders subscribed for Sapura Energy's massive RM4 billion cash call in 4QFY2019, the bulk of which was used to pare down its debts of more than RM16 billion then.
At the time, the investing fraternity described the cash call — at 30 sen per rights share — as a "bitter but effective" pill to swallow, seen as sufficient to clean up the company's balance sheet so that it can capitalise on a future industry up cycle.
The exercise helped Sapura Energy pare down its borrowings to RM10.01 billion, with cash of RM860.02 million and retained profit of RM24.69 million as at end-April 2019. Net assets per share stood at 87 sen then.
Still, Sapura Energy is not back on a strong financial footing yet because the projects secured are not earning enough to meet its payment obligations and working capital.
This year, the company completed the RM10.3 billion refinancing with 13 lenders and secured a working capital facility worth RM1.2 billion.
Sapura Energy had accumulated losses of RM6.24 billion at end-July after the latest kitchen-sinking exercise in 2QFY2022, on top of the record quarterly loss of RM4.23 billion in 4QFY2020 — largely due to asset and goodwill impairment then.
Its total borrowings grew to RM10.88 billion, with its net gearing hitting 1.33 times. Net assets per share shrank to 48 sen.
The RM5.05 billion in intangible assets is an item that makes investors uncomfortable as this may lead to more kitchen-sinking exercises later.
CGS-CIMB Research wrote in its Oct 1 note that Sapura Energy's net gearing would be as high as 3.9 times, "assuming the goodwill of RM5.1 billion is fully written off".
The pandemic-induced short-term liquidity mismatch has further stretched its balance sheet.
In the six months ended July 31, trade and other payables increased 23.4% to RM3.29 billion, from RM2.67 billion. During the same period, the company's net operating cash flow stood at RM29.38 million, compared with finance costs of RM286.18 million.
Judging by its financial figures, it shouldn't be hard to conclude that Sapura Energy is short of capital to keep going.
Despite a healthy order book of RM7.5 billion and bids of RM35 billion, analysts have since revised downwards its future earnings forecast and project that its losing streak will extend to the financial year ending Jan 31, 2024.
Meanwhile, the group's exploration and production (E&P) division, which benefits directly from higher oil and gas prices, is still reinvesting its earnings into the business, says Anuar, with meaningful contribution to the group expected only from 2025 onwards. In short, the division will not generate bumper profits even though crude oil prices have climbed above US$80 per barrel.
The net loss of RM1.52 billion dealt a big blow to the little confidence that some investors might have had in Sapura Energy being able to turn around. The loss is seen as a sign that the O&G group is facing legacy issues that are still straining its financials.
Hong Leong Investment Bank (HLIB) Research slashed its forecasts from profits to losses. It projects wider net losses of RM2 billion for FY2022, RM621 million for FY2023 and RM580 million for FY2024 (compared with a net profit of RM98 million in FY2022, RM200 million in FY2023 and RM221 million in FY2024) to account for higher fixed costs and lower job completion assumptions.
"Sapura will need a lot more time and effort to turn around its operations into profitability, which we do not foresee happening within the next 12 months," says HLIB Research.