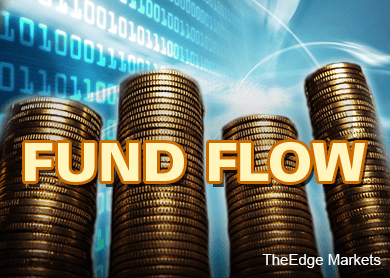 KUALA LUMPUR (Dec 8): Investors classified as "foreign" sold RM839.9 million in Malaysian equity last week, the fourth highest in a week this year, compared to an outflow of RM108.9 million a week earlier, according to MIDF Research.
In his weekly Fund Flow report, MIDF Research head Zulkifli Hamzah said foreign portfolio money attrition from Malaysia continued last week for the fifth week running as he had expected.
He said the selling was heavy, but the amount was still lower compared with that recorded in the January-February period this year.
Zulkifli said that those two months had been the most disconcerting phase of money out?ow so far this year.  
He said foreign portfolio investors were net sellers every single day last week and had been selling for the last 8 days in a row.
He said the amount of out?ow exceeded RM200 million on Wednesday and RM300 million on Friday.
Zulkifli said the net sale of RM316 million on Friday was the eighth highest in a day this year.
"Still, the intensity of daily sale was higher in 2013 compared with that so far this year," he added.
Zulkif said foreign participation was active, and the highest in eight weeks.
He said daily average gross purchase and sale amounted to RM1.09 billion, the ?rst time it exceeded RM1 billion in six weeks.    
"Both local institutions and retailers supported the market. Retail investors were noticeably mopping up shares for the ? fth week running.
"Retailers bought RM255 million net last week, the highest this year. It is apparent that mainly retail investors with holding power are ? nding listed shares attractive at current levels, as the participation rate was only moderate at RM805 million last week," he said.
Commenting on the region, Zulkifli said share prices in most markets around the world continued to edge up last week, for the seventh week in a  row.
He said the bellweather Dow Jones closed on Friday just shy of the psychological threshold of 1,800 points.
Zulkifli said sentiment in the U.S was buoyed by the strong employment number released on Friday.
He said the nonfarm payroll showed 321,000 increase in jobs in November, beating forecasts and was the biggest gain since January 2012, while unemployment rate stayed steady at a six-year low of 5.8%.
However, he said all eyes were on China, as the giant continued to rally.
"Last week, the CSI300 gained another massive 11.3%, after the 8.7% increase the week before. It was the highest in a week since April 2008.
"After five unrelentless weeks of big waves hitting the shores of Asia, the tide stopped abruptly last week, except to North Asia, especially China," he said.
Zulkifli said "Emerging South East Asia" recorded its first deficit in seven weeks, explaining that there were clear withdrawals from Malaysia, Philippines and Indonesia.
"The FBM KLCI lost 3.4% last week, its worst in more than three years.
"It has lost 6.3% year-to-date, among the worst performing markets in the world this year," he said.