This article first appeared in City & Country, The Edge Malaysia Weekly, on September 6, 2021 - September 12, 2021.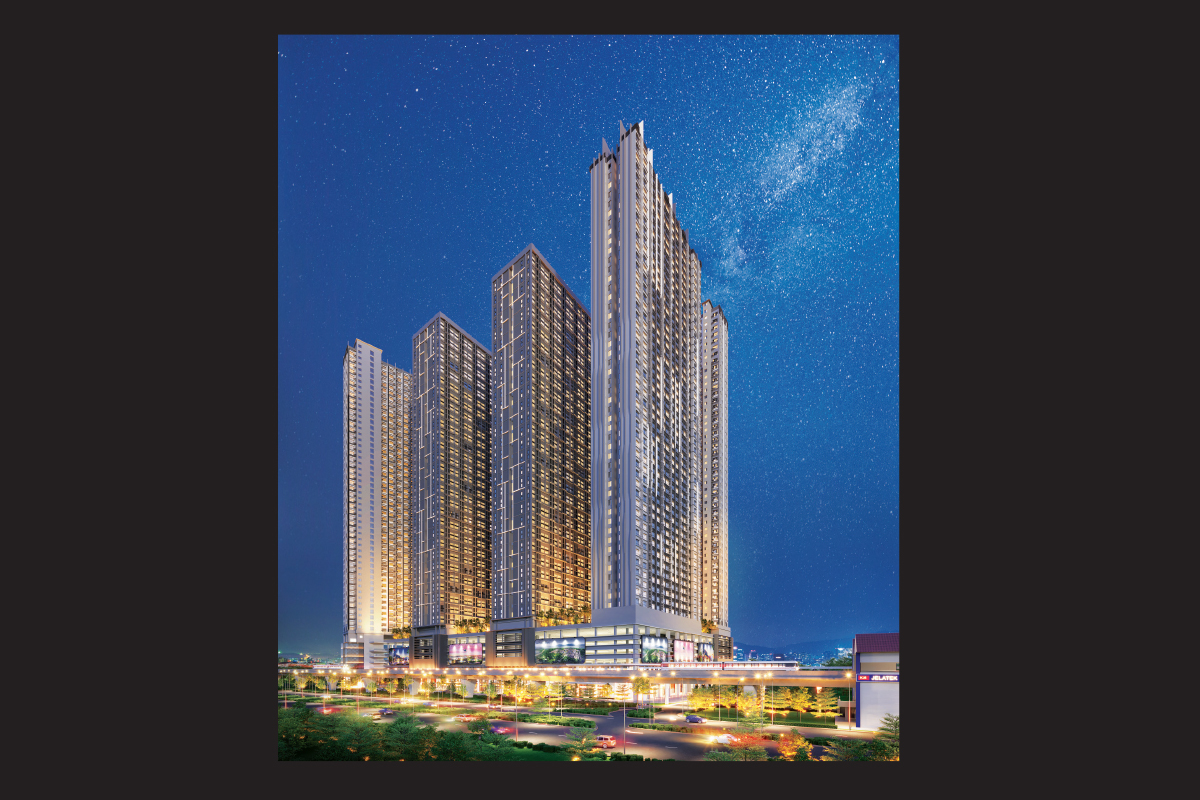 Setia Awan Group will launch its mixed development, Astrum Ampang, on Sept 6. Sitting on a 6.85-acre leasehold parcel on Jalan Jelatek, Kuala Lumpur, the project has an estimated total gross development value of RM1.6 billion and will comprise six towers of between 24 and 48 storeys: Towers A, S, T, R, U and M. 
It will offer a total of 5,228 units, including SoHo (small office/home office) transit homes, Rumah Mampu Milik (RMM) SoHos and serviced apartments, as well as SoHo suites and serviced apartments. It will also have 27 shops.
The development is a 16-minute drive to the Kuala Lumpur city centre and 150m away from the Jelatek LRT station. It is easily accessible via Jalan Ampang, Jalan Jelatek, Middle Ring Road 2, Duta-Ulu Kelang Expressway, Ampang-Kuala Lumpur Elevated Highway, Duta-Ulu Kelang Expressway and Kuala Lumpur-Karak Expressway.
Because of the pandemic and travel restrictions, the developer has been unable to market and sell the project the conventional way. "We have been doing extensive digital online marketing to promote the project via webinars and Facebook. We foresee that there will be demand for Astrum Ampang regardless of current market conditions," says Setia Awan sales and marketing senior general manager (central region) James Andrew Bruyns.
According to Setia Awan executive director (central region) Ng Teck Hua, "Astrum" refers to the stars and constellations, sky and heaven in Latin. "Astrum has six letters, each representing the six towers (six-point stars) of the development."
Phase 1 will comprise 712 RMM SoHos and serviced apartments in Tower A and 1,360 SoHo transit homes in Tower S. The RMM SoHos and serviced apartments with studio and 1-bedroom layouts will have built-ups of 450 and 550 sq ft and are priced at RM230,000 and RM250,000 respectively. The SoHo transit homes are studios with built-ups of 280 sq ft and are priced at RM230,000 each. Phase 1 is expected to be completed in 2026.
Bruyns says the SoHo transit concept is the first of its kind in the country and governed by the Housing Development Act (HDA) in collaboration with Lembaga Perumahan dan Hartanah Selangor (LPHS) and the Ministry of Housing and Local Government (KPKT). "These units are suitable for young working adults who frequent the Kuala Lumpur CBD and want to live near the city centre," he says.
Phase 1 units are targeted at first-time homebuyers aged below 40. "Nowadays, the younger generation are not able to own a property because of affordability. These units will appeal to them, as the price is affordable," says Bruyns.
Phases 2 and 3 are expected to be launched in 1Q2022 and 1Q2023 respectively. Phase 2 will offer 664 SoHo suites in Tower T and 1,360 SoHo transit homes in Tower R. The SoHo suites have built-ups of 450 sq ft and are priced from RM430,000. "Although the size of the suites is the same, the price varies because of different levels and views. As for the SoHo transit homes, they measure 280 sq ft and are priced at RM230,000 each, which is the same as the SoHo transit homes in Phase 1," says Ng.
Phase 3 will consist of 664 SoHo suites in Tower U and 468 serviced apartments in Tower M. The SoHo suites will have built-ups of 450 sq ft and are priced from RM430,000; the serviced apartments will come in 2- to 3-bedroom layouts with built-ups of 550 to 1,000 sq ft and prices starting from RM495,000. "All SoHo suites will be fitted with air conditioners, whereas the serviced apartments will come with air conditioners, water heater and kitchen cabinet. These units cater for buyers aged 28 to 40 as well as investors," says Bruyns.
Astrum Ampang will feature a five-acre deck with facilities such as an infinity pool, a wading pool, sunken Jacuzzi, jogging track, an outdoor tennis court, outdoor fitness, a barbecue pavilion, meditation deck, herbs garden, dance and yoga studio, co-working space, multipurpose hall, children's playground, gaming room and gourmet kitchen. The maintenance fee is 30 sen psf per month.
Nearby amenities include Great Eastern Mall, Suria KLCC, SK Al-Amin, SMK Taman Keramat, Geomatika University College, Gleneagles Intan Medical Centre, KPJ Ampang Puteri Specialist and Datuk Keramat Sports Complex.
Ng believes every project has its own challenges. He says: "Smaller units are harder to design and space utilisation plays an important role. So, we spent lots of time on planning and designing the layouts to ensure they are functional and that storage and space are maximised efficiently to make the units feel spacious. Also, the project's high density may be a potential buyer's main concern, but [in reality,] the population is relatively small, as the units are for either single occupancy, couples or small families.
"Ultimately, we intend to increase homeownership among the B40 and M40 (Bottom 40% and Middle 40% income groups), which is part of Setia Awan's corporate social responsibility. We aim to establish a market presence in the Greater Klang Valley as a responsible developer that provides quality and affordably priced homes."