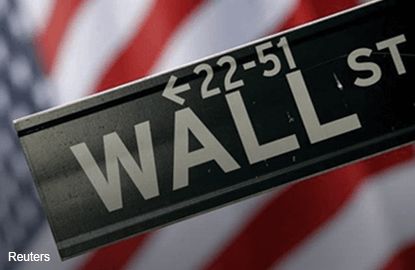 (Nov 11): Wall Street ended modestly higher after a choppy session on Tuesday as gains in consumer discretionary stocks offset a drop in Apple and investors hunkered down for a potential interest rate hike next month.
Apple's shares fell 3.15 percent after Credit Suisse said the iPhone maker had cut component orders by as much as 10 percent, indicating weakening demand for its newest smartphones.
The stock was the biggest drag on the three major indexes. After falling in the four previous sessions, the S&P 500 flittered between losses and gains for much of the session before finishing 0.15 percent higher at 2,081.72 points.
"We could face a little more of this kind of trading as we see people position around the idea of a rate increase," said Kurt Brunner, a portfolio manager at Swarthmore Group in Philadelphia. "Over next couple weeks, it could be a little sloppy before we head into Thanksgiving."
The report on Apple inflamed already-existing fears of a slowdown in global growth, especially in China, a key market for many U.S. companies including Apple, ahead of the crucial holiday shopping season.
Data on Tuesday showed persisting deflationary pressure in China and followed disappointing trade data over the weekend.
Companies will also be hit with higher borrowing costs if the U.S. Federal Reserve raises interest rates from near-zero levels next month, as is widely expected after Friday's strong jobs report.
Still, the Dow Jones industrial average rose 0.16 percent to finish the day at 17,758.21 points. The Nasdaq Composite dropped 0.24 percent to 5,083.24.
The prospect of a rate hike sent the dollar to a seven-month high. A strong dollar eats into the overseas sales at U.S. companies.
Following a dramatic selloff in August, fueled by fears about a slowing Chinese economy, and then a recovery in October, helped by corporate report cards that were not as bad as expected, the S&P 500 remains up about 1 percent for the year while the Dow is down marginally.
Seven of the 10 major S&P sectors were higher on Tuesday, with the consumer discretionary sector's 0.82 percent advance leading the gainers, helped by an 0.86 percent increase in Walt Disney and a 0.64 percent rise in Amazon.com .
Apple suppliers Skyworks, Avago, Cirrus Logic and Qorvo were down between 3.9 percent and 10 percent.
Gap fell 1.44 percent after its comparable sales fell more than expected in October.
Among other gainers, D.R. Horton surged 8.27 percent after its quarterly profit jumped 44 percent. Other homebuilders also rose.
Advancing issues outnumbered declining ones on the NYSE by 1,749 to 1,325. On the Nasdaq, 1,426 issues fell and 1,373 advanced.
The S&P 500 index showed five new 52-week highs and six new lows, while the Nasdaq recorded 85 new highs and 100 new lows.
About 6.7 billion shares changed hands on U.S. exchanges, below the 7.1 billion daily average for the past 20 trading days, according to Thomson Reuters data.