This article first appeared in Enterprise, The Edge Malaysia Weekly, on December 30, 2019 - January 05, 2020.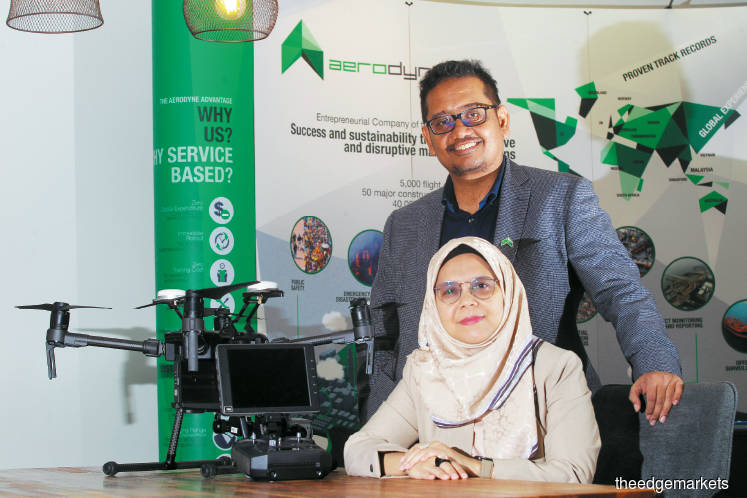 Sector: Drone services
Addressable market (US$): The drone services market is estimated to be US$4.4 billion in 2019 and is projected to reach US$63.6 billion by 2025, according to an April 2019 report by market research firm Markets and Markets.
Intellectual property status: 33 patents
Product description and USP: Aerodyne Group is a provider of drone-based enterprise solutions and a pioneer in the use of artificial intelligence as an enabling technology for large-scale data capture and analytics.
Currently exporting: Yes, to 25 countries
Industry challenges: Finding world-class talent for rapid expansion exercises
Unmanned aerial vehicle (UAV) or drone services is an emerging market that is expected to grow exponentially in the next few years. The demand for these services, involving the use of flying robots that can be controlled remotely or that use software-controlled flight plans in their embedded systems, are driven by factors such as a greater need for industry-specific solutions and a growing requirement of qualitative data in various sectors.
According to India-based market research firm, Markets and Markets, the drone services market is expected to reach US$45.8 billion by 2025 from US$19.3 billion this year. This works out to a compound annual growth rate of 15.5%.
Aerodyne Group is a home-grown company tapping into this market opportunity. Founder and group CEO Kamarul Muhamed, a former accountant who had always been fascinated by flight, started the company in 2015 with seed capital of RM1 million.
The business has grown at an unprecedented rate. In less than five years, it has expanded its footprint to 25 countries. The company recently closed a US$30 billion Series B funding round that was led by South Korea-based Intervest and Indonesia-based Kejora Ventures.
Aerodyne is now recognised worldwide as a leading drone service provider. In fact, it was ranked No 3 globally by Drone Industry Insights in its 2019 Drone Service Provider Ranking, behind US-based Zipline and Japan-based Terra Drone. Aerodyne was ranked No 7 in 2018.
The company was recently named Frost & Sullivan's Asia-Pacific UAV Services Company of The Year. It was also a recipient of the Institution of Engineering and Technology Malaysia's Industry Excellence Gold Award 2019.
"It is a very exciting time for us. Due to our rapid expansion, we are busy hiring. In the middle of last year, we were 270-people strong. Today, our team has grown to 330. By the end of the year, we expect the team to grow to 400. We had to move to our 16-acre premises in Cyberjaya because the previous premises became too small for us," says Kamarul.
Aerodyne's success did not happen overnight. Prior to founding the company, Kamarul ran a full-fledged production house called DKM2. It had a UAV division that used drones to capture visuals for documentaries.
While the business was fun and profitable, it could not be scaled. So, he shifted his focus from visuals to data capture. The UAV division was turned into a separate entity and Aerodyne was born.
The first year of business was slow as the team spent most of its time and resources on R&D. But the company had its endgame in sight — it wanted to be an enterprise-level solutions provider. But it had to figure out how to make that work.
Three months in, the east coast of Peninsular Malaysia was hit by one of the most devastating floods in the country's history. Kamarul and his team got to work almost immediately, using the company's drones to capture information and footage that could be shared with the public, government agencies and mainstream media at no cost. This propelled Aerodyne into the limelight and it received acknowledgments from various parties, including the Department of Civil Aviation.
That experience taught the team that data was definitely the way to go. So, Aerodyne introduced its first commercial product — a project management and reporting solution for construction and property development companies called PRISM. Aimed at solving problems in construction such as delays and non-compliance, the business soared.
Today, Aerodyne's core objective is to help enterprises with digital transformation. It aims to assist clients to optimise their operations, reduce costs and increase work efficiency. The company delivers artificial intelligence-driven, drone-based, enterprise-integrated managed solutions to the oil and gas, power, telecommunications, renewables, construction, agriculture and infrastructure sectors.
"Our target customers are infrastructure asset owners. In fact, 70% of our business is with such clients. Their problem statements are very similar to each other — their assets are all over the place, thus the cost of managing and maintaining the assets can be very expensive. They want to know how they can manage the assets better as these can be located in vast, remote or dangerous areas. This is where we come in," says Kamarul.
Aerodyne can also help companies with security and surveillance. Thanks to the high vantage point, speed, agility and endurance of the drones, it was able to improve the effectiveness of security and surveillance.
In agriculture, the company uses its technology to measure and manage variables such as yield, soil, pests and weeds across fields to enhance efficiency and achieve optimum productivity, product quality and economic returns.
Can Aerodyne's solution really help companies save money? "One example I can give is in renewable energy. Typically, wind farm operators shut down their turbines periodically for inspection. Our technology helps them to reduce inspection time, thus providing them with more time to generate revenue," says Kamarul.
"Likewise in the power industry — we help them reduce power failures, thereby helping them to save on the cost of maintaining their assets. On average, we help them shave off 20% of their operational cost, which is quite a significant cost savings for the companies. On top of that, we improve the operational process by up to 400%."
As at Oct 16, Aerodyne had completed more than 60,000 flight operations, inspected more than 250,000 assets and surveyed in excess of 55,000km of energy-related infrastructure around the world. The company has offices in 14 countries, eight of which are already producing revenue, says Kamarul.
The company's biggest markets are Malaysia, the UK and Denmark. It has been busy in India lately as it is one of the markets with the most potential, he says.
"It is a massive untapped market. We are very excited about our prospects as we have a very good partner there. Other markets that we think have great potential are Japan, the Middle East and the US," he adds.
London-based global information provider IHS Markit estimated in its July report that India's GDP will reach US$5.9 trillion by 2025, surpassing Japan and making India the world's third largest economy.
In terms of challenges, Aerodyne has a significant hurdle — recruiting world-class talent to run its global operations. The company has received a lot of strategic partnership offers over the past year. While these are very good for the company, delivering on them has not been easy as the company lacks sufficient human resources, says Kamarul.
"To deliver and operate on a global scale is very challenging, especially as we are struggling with human resources. It is hard to find local talent with a global mindset. We are competing on a global scale," he adds.
"Some people say we are winning jobs all over the world just because we are from Malaysia and the cost of our service is low. That is not true. We actually have good products that our clients find sustainable. So, it is important that we find people who have what it takes to be on this journey with us."
Its second challenge is funding. Aerodyne has been profitable since day one and is currently cash flow positive. However, the revenue generated has not been sufficient for it to finance its global expansion.
"Generally, I think the funding ecosystem in Malaysia — investor mindset, appetite for investment and others — is different from what I see in other markets. I think the ecosystem needs to be revitalised for a healthier and more vibrant entrepreneurship environment," says Kamarul.
Going forward, he would like to see Malaysia fall in line with global regulatory requirements when it comes to drones. "I think we have a bit of catching up to do. In some countries, there are systems that help the industry operate in a more seamless manner. We think it would be very beneficial for us and other players in our industry if the same could be done here," he says.
Having said that, Kamarul is thankful that the company has received a lot of support from various parties, including the government. For instance, Aerodyne is part of the Global Acceleration and Innovation Network programme initiated by Malaysia Digital Economy Corporation, which helps local companies to scale globally.