This article first appeared in The Edge Malaysia Weekly, on November 22, 2021 - November 28, 2021.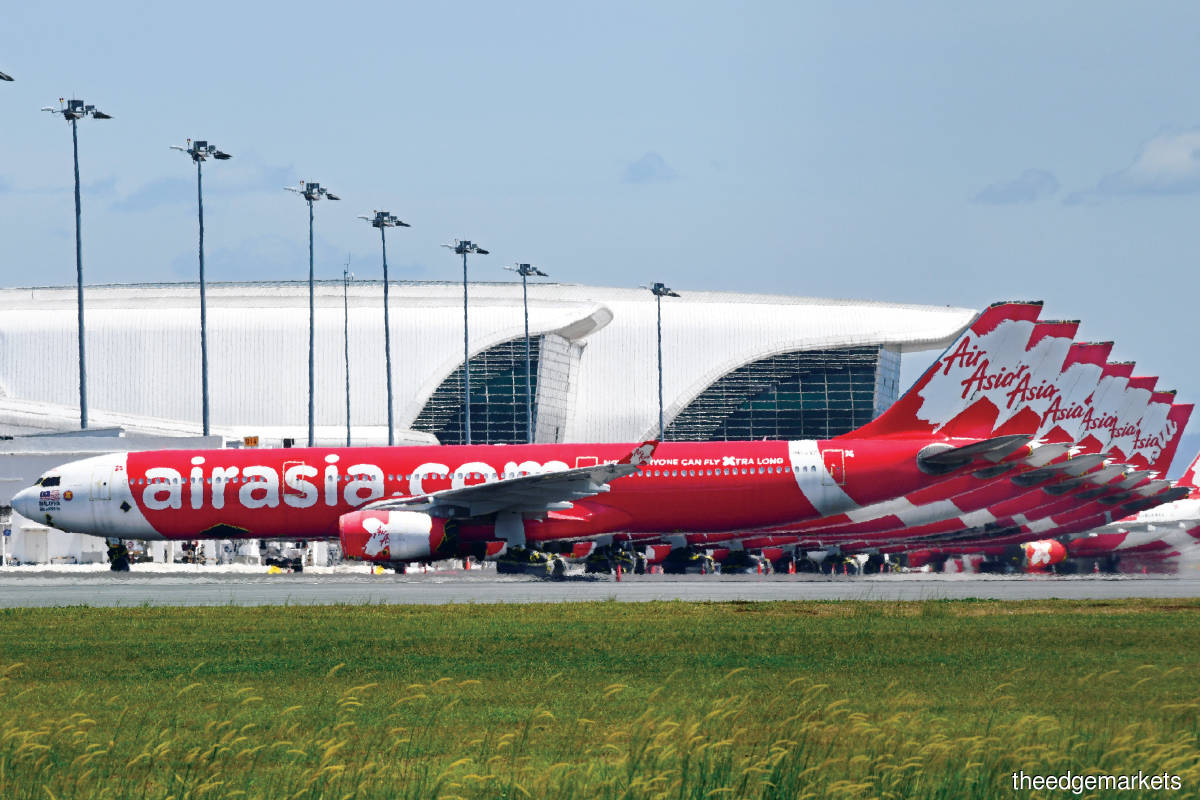 THE restructuring terms that AirAsia X Bhd (AAX) pulled through recently are unprecedented in global aviation history and the Malaysian homegrown airline — which was laden with RM63.5 billion worth of debts — is taking to the skies again with zero gearing.
AAX crossed a crucial hurdle on Nov 12 with nearly unanimous support from creditors for its debt restructuring plan, in which they will take a 99.5% haircut on what they were owed despite not being offered any equity in the airline.
Nevertheless, the uphill battle to recovery is far from over. The operating environment remains challenging as some markets, such as Europe, are seeing a resurgence of Covid-19 cases while others are staying firm on border closures and quarantine rules.
Airlines globally are still bleeding. Indonesia's Garuda last week submitted a restructuring plan to its creditors and lessors. As at September, the carrier saw negative equity of US$2.82 billion (RM11.71 billion) — reportedly the lowest in its 72-year history. Meanwhile, Singapore Airlines is still loss-making, although its losses narrowed by 75.9% to S$837 million (RM2.6 billion) for the first half ended Sept 30 (1HFY2022) from S$3.5 billion a year earlier.
Against this backdrop, what is AAX's game plan, given this new lease of life? Is the low-cost long-haul business model still commercially viable considering that the airline was already bleeding red ink before the Covid-19 outbreak?
Loss-making since FY2018, ended Dec 31, AAX's financials were further hit when international travel came to a grinding halt in early 2020 due to the pandemic, causing the airline to shift into debt restructuring gear in August last year. The airline's most recent numbers for the 18-month financial period ended June 30, 2021 (FPE2021), show negative shareholders' funds of RM31.53 billion while accumulated losses stood at RM33.06 billion.
In an exclusive interview with The Edge, AAX deputy chairman Datuk Lim Kian Onn says the low-cost long-haul business is "challenging" for a variety of reasons. "For a start, fuel accounts for 40% or more of costs, and air fares are not directly correlated to the distance flown. The front of the cabin subsidises the back for a lot of long-haul legacy carriers, and the Middle East ones have deep pockets.
"But we have not been flying long haul for a long time since we stopped our London route in 2012. We are a low-cost medium-haul airline. Our routes are predominantly between four and eight hours."
He points to a combination of factors for the losses at AAX pre-Covid. "There was irrational competition in a market with so much surplus capacity. This was probably the most important reason.
"There were extended periods when fares were a lot cheaper on full legacy carriers than us even though our fares were already low. We also expanded probably too fast and opened up some routes for which the gestation period took longer than expected."
Nonetheless, Lim feels strongly that the inflection point has been reached and believes that AAX's revamped business model has significant attractions, pointing to its pivot to the cargo business as one of them.
"We did not have a serious cargo business before. Our wide bodies are perfect for combination flights — cargo and passengers. The belly can take up to 35 tonnes or 35,000 kg," he says.
"Take the KL to Sydney route. Cargo rates are about US$6 to US$7 per kg currently. Pre-Covid-19, it was about US$2 to US$3. We are flying profitable dedicated cargo flights just using the belly space with no passengers.
"Arguably, rates will not be as high when capacity returns to the market but it will still be elevated from pre-Covid-19 levels for many reasons, not least that e-commerce is growing at a compound rate of 40% each year. When we start flying passengers, passenger revenues will be almost all directly to the bottom line."
In AAX's new plan, most of its routes will be cargo-driven.
"Shanghai, Seoul, Sydney, Melbourne and Tokyo are very dense high-yielding cargo routes that we have the rights to fly to and for which we have good passenger loads. With full cargo loads, it does mean that although we will be able to carry fewer passengers, there will be a reduction in available capacity for the route as a whole and higher fares," Lim explains.
Another part of AAX's revamped business model is the narrow-body aircraft that can fly a lot further than four hours.
"Most of our routes can be covered by an Airbus A321neo and later, all our routes can be covered by our new A321XLR. So for some of our routes where we struggled in the past to fill up 377 seats, the 230- to 240-seater A321XLR will cover it at half the cost. Whereas we couldn't make Adelaide work for us in the past, the A321XLR is perfect and is a game changer for all airlines worldwide, which is why it is so difficult to get hold of one," he says, adding that AAX has 20 of these aircraft on order.
"There is yet another implication for cargo rates. More narrow-body aircraft mean less belly cargo space taken up on wide-body aircraft. This will translate into continued robust cargo rates. In the coming years, we will have a good mix of narrow- and wide-body aircraft, and this works well."
AAX has been making inroads into the cargo business as it started active marketing a few months ago, when planes were made available again.
"What's clear is that cargo demand in Asia-Pacific is extremely strong. Teleport — our cargo partner at AirAsia Group Bhd — has been a great support with whole plane charters from us. Added to that, we have had success with some of the biggest global freight forwarders," says Lim.
"We are running regular rotations throughout Asia-Pacific for a number of them and we are in negotiations for longer-term commitments for as far as Europe. There are also great ad hoc opportunities," he observes.
He adds that AAX has just won a contract to fly twice weekly to Sydney for the next two months.
"We are also working with two of the largest global freight forwarders to build a network around their cargo needs in Asia-Pacific. These are whole plane charters with full risk passed on, including fuel costs. We are also looking at converting a couple of our planes to full freighters, though there is a long wait for a conversion slot," he says.
"But we are only scratching the surface with the cargo business. There is so much more to be done and we will not miss out on these opportunities."
Reflecting on the lessons learnt from the pandemic, Lim says if it has taught them anything, it is that uncertainty is unavoidable. "Our approach is to be as prepared as we can, and to be fluid and nimble."
Under AAX's restructuring plan, the group had asked for power-by-the-hour concessions for a two-year grace period, which meant that it would not have to pay for the lease or engine costs if its planes were grounded, and it would only operate profitable routes.
These represent significant savings for the airline and notable concessions by its lessors, for which AAX is grateful, says Lim (see Q&A).
What about its customers?
Many have spoken up, saying that the restructuring plan is unfair to AAX customers as tickets sold to passengers and travel agents — amounting to nearly RM600 million — are categorised as liabilities, and they would only receive 0.5% of that sum, or RM3 million cash, based on the creditors' proposal that was passed.
Lim affirms that customers are "very important" to the group and clarifies that they will get 1:1 travel credits for tickets bought (see accompanying story on Page 26).
"They get full travel credits without a time bar plus a share of profits for three years and a small payment. If the airline had gone into liquidation, the passengers would have lost everything. It's binary," he says.
10-month cash burn rate at RM34 mil
AAX's cash burn rate in the 10 months to October 2021 totalled RM34 million, which works out to RM3.4 million or US$800,000 a month. How sustainable is this? What will the monthly cash burn rate be moving forward and when will the airline turn cash flow positive?
Lim reveals that there have been months when AAX was already cash flow positive, but adds that "it will still be choppy for a few more months".
"AAX's current costs are largely fixed. We will bring back marginal costs in line with revenue growth. As and when we fly more planes, we will bring back more pilots and support staff," he says.
After receiving 99% support from creditors who voted in favour of the scheme to restructure RM33.65 billion in debts, AAX's share price — which fell to an all-time low of four sen in October last year — is back on the radar screens of some analysts. The stock had since recovered to seven sen last Wednesday, still a far cry from its five-year high of 51 sen in 2017.
Last week, PublicInvest Research upgraded its call on the stock to "neutral" from "underperform", but without prescribing a target price yet. "We view these developments positively. We have a hold on assessments (valuations and financial forecasts) for now pending a meeting with management, though we note that upsides now appear to be more encouraging," it says in a Nov 15 report.
The research house expects demand for international air travel to pick up as countries' travel restrictions continue to loosen, such as in the UK (only a pre-booked lateral flow test before the end of day 2 of passengers' arrival).
"The US' reopening to vaccinated international travellers this month should also contribute to increased international air travel. For Malaysia, the National Recovery Council (NRC) has proposed that the country's borders be reopened to foreign visitors on Jan 1, 2022, to countries with high vaccination rates, which bodes well for AAX," it adds.
An aviation analyst with a foreign house says he is keeping an eye on AAX as he does not cover the stock but the developments at the airline have piqued his interest. "The low-cost long-haul business is more or less unproven. It will be interesting to see how AAX resets."
Following the near liquidation of AAX, Lim believes that "the worst is definitely behind" the airline. "We are probably the only ungeared airline in the world. So, the future must look a lot brighter for all the reasons I spoke about."
New shareholders in the offing?
Now that AirAsia X Bhd (AAX) has received a crucial majority of creditors' votes for its debt restructuring plan, it is looking at a recapitalisation exercise next.
This exercise, which will see the airline undertake a round of fundraising, could see the entry of new shareholders. Industry sources say those who have indicated an interest in the carrier include ECM Libra Group Bhd chairman Datuk Seri Kalimullah Hassan and GPL Group's Datuk Douglas Cheng. When contacted by The Edge, both declined to comment.
The airline has said it will undertake a fundraising exercise to raise up to RM500 million, but will that be enough?
AAX deputy chairman Datuk Lim Kian Onn is of the opinion that the sum is more than adequate. "We said we want to raise RM500 million and we will work towards that," he says.
"We have a low cost base with the new lessor arrangements. We have zero borrowings. We only fly if we can make money on each flight."
AAX is "perfectly hedged too", adds the seasoned dealmaker. "If borders don't open, cargo rates will be very high and we can just fly cargo and make money. If borders open up, cargo rates will fall, but passengers will take up the slack," he explains.
"[AirAsia co-founders] Tan Sri Tony Fernandes and Datuk Kamarudin Meranun have said they will take up their rights entitlement. I will take up mine too. There will be a new share placement and we will market these as soon as we receive court sanction for the scheme. There is keen interest by quite a few corporates and high-net-worth individuals," Lim reveals, but declined to give specific names.
Under the issuance and allotment of shares to new investors, the special purpose vehicle (SPV) incorporated by Lim will commit a minimum subscription of RM50 million. The SPV will be given an option to subscribe for an additional 15% of the enlarged number of AAX shares after a proposed rights issue and share subscription.
Fernandes and Kamarudin are the two largest shareholders of the airline. As at Oct 11, Kamarudin had a direct stake of 8.94% and an indirect stake of 31.59%, while Fernandes held a direct stake of 2.69% and an indirect stake of 31.59%. Lim had indirect equity interest of 4.24%.
Last month, AAX slipped into Practice Note 17 (PN17) status after its auditor EY expressed a disclaimer of opinion on its audited financial statements for the 18-month financial period ended June 30, 2021. Lim expects the PN17 status to be lifted "once the fundraising is done" by the first half of 2022.
Read also:
Special Report: An unconventional approach to airline restructuring, says Lim
Special Report: AAX deputy chairman says passengers to get 1:1 credits for tickets bought