This article first appeared in Enterprise, The Edge Malaysia Weekly, on November 13, 2017 - November 19, 2017.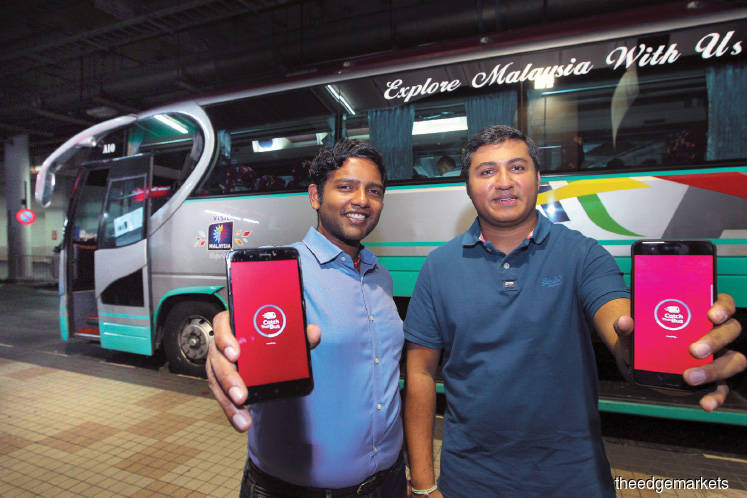 About five years ago, Viren Doshi and Ashwin Jeyapalasingam decided to take an impromptu trip to Singapore. So, they took a bus from Pudu Sentral as it was the cheapest way to get to the city state. Unfortunately, they found the experience difficult, cumbersome and confusing.
"We felt that a lot of things could be improved. Most of the time, people find it a hassle — there are so many bus operators that they do not know which to choose or what the differences are between them. The tickets have to be bought at a physical counter and there is always the possibility that the bus will not show up," says Viren.
Viren and Ashwin, who were classmates during their A-Levels studies, have consulting backgrounds. Seeing a potential gap in the market, they decided to do some research to see if there was an opportunity for them to tap this space. They learnt that in Malaysia, more people travelled by bus than by air, but there were hardly any online platforms to purchase bus tickets.
"The bus operators do what they do best, which is getting people to their destination. They do not feel the need to have an online presence. It does not help that hiring tech guys are expensive. We saw this need, so we jumped right in," says Viren.
He and Ashwin launched bus ticketing platform CatchThatBus.com in December 2013. At the time, the duo's focus was to solve the ticketing problem.
Users can pick their desired date, time and boarding venue and pay the same price for the ticket they would have bought at physical counters. CatchThatBus receives a commission of 10% to 15% for every ticket it sells.
Viren says it has definitely not been an easy ride, especially when it comes to convincing bus operators that digital is the way forward. "Imagine a business that has been printing physical tickets for decades. It is not easy for them to change their mindset. The driver could be a 50-year-old man who has been driving for 20 years. If you tell him that your ticket is digital, he will say he does not know how to read it and determine its validity.
"It may seem like a small thing, but if the company has a fleet of 60 buses, it means that they may have
anywhere between 120 and 180 drivers. It is very difficult to get this big group to understand the same thing. The owners may have the right intention of bringing their business online, but the people who work for them may be clueless. That is when customers start having problems."
Despite this, CatchThatBus has managed to get more drivers to accept the digital tickets and operators are now more welcoming of the concept. The company sells 70,000 tickets per month, having convinced 70 of the 120 bus operators in Malaysia to list their tickets on its platform.
Going beyond our shores
CatchThatBus may not even be five years old, but it has already won multiple awards, including the Best of Tourism & Hospitality award at the MSC Malaysia APICTA 2014 and in the ICT category at Techventure's 2014 Business Pitch Competition.
Its investors include Cradle Fund Sdn Bhd (through the CIP150 grant) and 500 Durians (the Southeast Asia fund of 500 Startups). The company is actively looking for opportunities to expand its business, although its focus is only on passenger buses.
"We know that we can expand horizontally by selling train and plane tickets, but we choose not to. We want to delve deeper into the bus industry and solve its problems," says Viren.
"There are so many things that we can do in this space to make bus trips better, easier and more efficient. So, we are planning to offer more products that complement bus travel."
In 2014, CatchThatBus received an undisclosed amount of funding from Singapore-based Jungle Ventures and the National Research Foundation Holdings, which allowed the company to enter the city state's market. "For us, expanding into Singapore just made sense. All the bus operators in the island republic have to come to Malaysia. At least half a million Malaysians live in Singapore, including tech-savvy white-collar workers," says Viren.
He adds that about 60% of the bus ticket sales in Singapore is online, compared with just 10% in Malaysia. The operators there are tech-savvy too, making it easier for CatchThatBus to get them on the platform.
"There are only 20 bus operators in Singapore, but the volume of travel is high. Singaporeans love to travel to Malaysia. Popular destinations include Johor Baru, Melaka and Kuala Terengganu. In fact, they like to take advantage of the cheaper ringgit to gamble in Genting Highlands," says Viren.
"Unlike Malaysia, bus ticket prices in Singapore are not regulated. During the weekends, prices can go up by 30%. The prices are crazier leading up to Chinese New Year, when it can go up to S$200 for a one-way ticket. But buses are still the cheapest travel option."
After strengthening its presence in Sabah and Sarawak, CatchThatBus plans to expand to Vietnam and Indonesia in the near future.
Building trust still a challenge
After operating for more than three years, it is time for the company to expand its services, says Ashwin. "Before this, we were pushing very hard to get operators on board. But now that we have been here longer, we understand the issues faced by customers, and it is not just in terms of purchasing tickets. We want to make the entire experience better."
CatchThatBus now has physical counters at five terminals — in Ipoh, Kuantan, Melaka, Kangar and the Plaza Rakyat LRT station — and is planning to set up more. Ashwin says the company has taken this step to provide additional convenience to users, in case there is a problem with the ticket they purchased on the online platform.
"The counters serve as a touch point. Users can come to the counter to ask which platform they should head to, why their buses are not on time and what they can do in the event that they miss their bus.
"It is also a good platform for us to educate those who may have not have bought anything online before. We know that people who use buses regularly are in the lower-middle-income group. They don't trust online transactions. So, we decided to humanise the process. Users definitely feel safer at the terminal knowing that they can speak to someone."
Customer acquisition is still a big headache for the company due to the perennial distrust of online platforms, says Viren. In fact, about 20% of those who buy tickets on CatchThatBus.com are making their first online purchase.
"While 70,000 tickets a month may sound a lot, it is only a fraction of those sold in Malaysia. Most customers have no idea how CatchThatBus works and some think they need a credit card for online purchases," says Viren.
"That is why there are people who will take the time to go to the bus terminals to buy their tickets a few hours or even a few days before their trip. They do this because they cannot believe how simple the online transaction is. It is a long battle, but we are determined to change consumer behaviour, one step at a time."
The CatchThatBus team is working hard to extend its mobile app functions. Launched in 2015, the app was previously used to only buy tickets. Today, the app can be used to get free credits and give feedback. This empowers users to highlight the issues they encounter before, during and after their trips.
"Users can send us reports, which we will forward to the bus operators. Some have sent us pictures of broken seats, leaking air conditioners and drivers smoking while driving. Once, a user even sent us a picture of the driver taking cash from people and letting them on the bus without issuing any tickets. The money went into his own pocket," says Ashwin.
"We help compile these issues and present them to the bus operators in a digestible manner. This helps them to see the complaints positively and actually take action to improve themselves.
"We are also speaking to Malaysia's Land Public Transport Commission (SPAD) to work on initiatives that will help the bus industry move forward. We are in discussions to modernise some of the regulations and push for the acceptance of digital tickets. SPAD has been very accommodating."