This article first appeared in City & Country, The Edge Malaysia Weekly, on March 9, 2020 - March 15, 2020.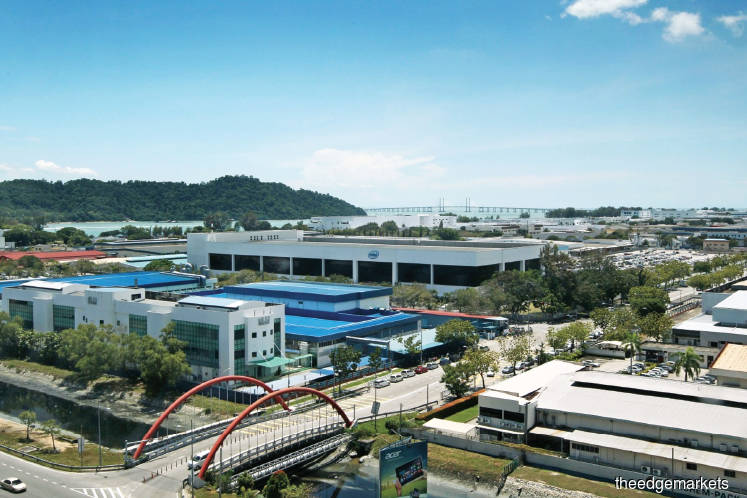 The industrial segment in Penang is supported mainly by the manufacturing and semiconductor industries
Photo by Bloomberg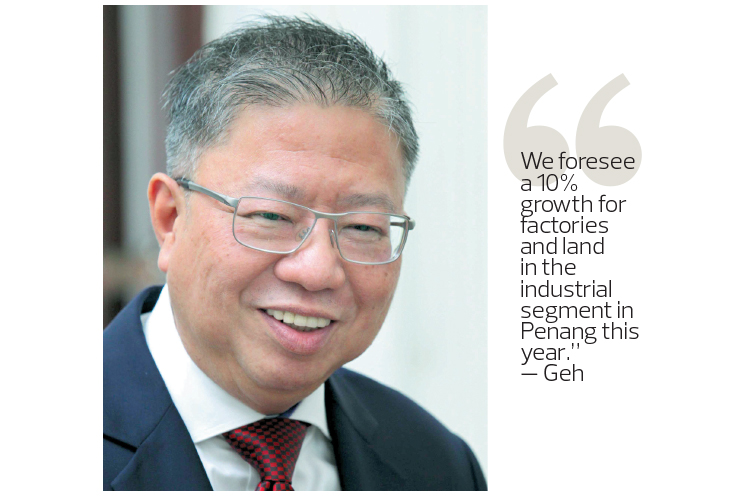 Photo by Kenny Yap/The Edge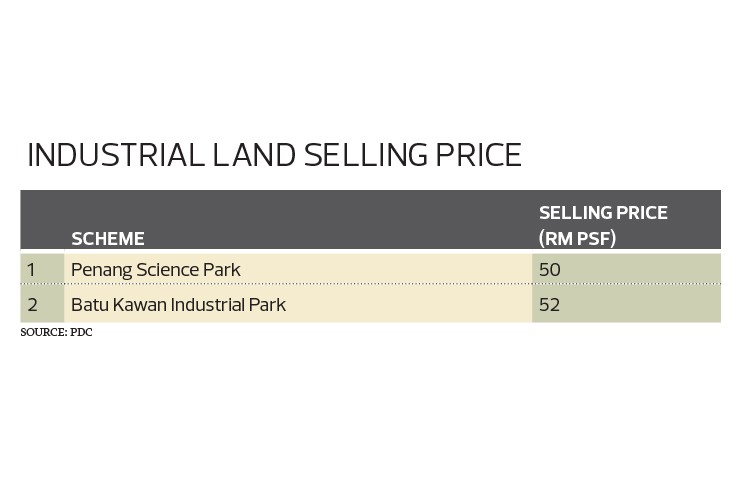 Click / Tap image to enlarge

There is renewed interest in the industrial segment in Penang, with more multinational corporations (MNCs) expected to set up shop there this year, say market experts. The segment (comprising factories and land) is expected to see a steady surge this year because of the growth in the manufacturing and other related industries as well as economic factors.
According to the Malaysian Investment Development Authority (Mida), Penang recorded RM13.3 billion in approved manufacturing investment inflows in the first nine months of 2019 (9M2019).
"The demand for factories and land in the industrial segment in Penang has been quite robust, especially if you look at the figures [recorded by Mida] last year. We foresee this segment growing at a steady pace in 2020," says Penang-based Raine & Horne International + Zaki Partners senior partner, Michael Geh.
"In 2019, about RM10 billion was estimated to be generated by Batu Kawan Industrial Park (BKIP) and MNCs. The industrial segment here is supported mainly by the manufacturing and also semiconductor industries, with 'high tech, high value' products. There is a good mix of MNCs and small and medium-size enterprises (SMEs)," Geh tells City & Country.
Known as the Silicon Valley of the East, the state recorded the highest level of foreign direct investments (FDIs) in the country of about RM12 billion in 9M2019.
On Feb 4, California-based, Fortune 500 semiconductor-related company Lam Research Corp announced that it would be setting up a production facility at BKIP. Geh says the new facility will cover 700,000 sq ft and be expanded in the future.
Transactions of factories and land for the segment have been steady, Geh adds. Selected detached factories in the state, with land areas of between 80,000 and 500,000 sq ft, were transacted at between RM10 million and RM130 million,
Notable detached factories transacted include Industry Bukit Minyak (RM10 million; 84,324 sq ft), Hilir Sungai Keluang 3 at Bayan Lepas Industrial Park (RM20.5 million; 90,040 sq ft) and Lintang Bayan Lepas 8 at Bayan Lepas Industrial Park (RM130 million; 514,730 sq ft).
Geh says he foresees a 10% growth for factories and land in the industrial segment in Penang this year.
"Land transactions have been encouraging too [in the past year]. Some of the industrial land transactions in Penang include Industri Bukit Minyak (Perda) (RM185 million/RM184 psf; 97,749 sq ft), Kawasan Perusahaan Perai (RM25 million/RM57 psf; 439,046 sq ft) and Bayan Lepas Industrial Park (RM27.6 million/RM140 psf; 197,604 sq ft).
"We foresee future acquisitions in Batu Kawan and Bukit Tengah at Seberang Perai, Penang. As it is, the area has many industrial hubs and activities."
Drivers and trends
Apart from the manufacturing and semiconductor industries, Geh says there are other factors affecting demand in the industrial segment. "In Penang, the segment has also benefited from the trade war between the US and China. The conflict has shifted the interest and level of confidence [of foreign investors] to set up businesses in Penang.
Other key drivers influencing the segment include the adoption of Industry 4.0 (IR 4.0) and InvestPenang, he adds.
"IR 4.0 is a much-talked-about topic [in supporting the industrial segment in Penang]. It means adopting automation and data exchange in manufacturing technologies and processes, including cyber-physical systems. This will change the approach in the demand for industrial properties and land here in the long term."
Championed by the Penang state government, InvestPenang is a non-profit entity tasked with promoting investments in Penang.
As for rising trends, Geh says the state lacks artificial intelligence hubs, data centres and financial centres but expects these areas to grow in the long term.
"We also foresee industrial parks being built, although some of the existing ones are undergoing expansion, especially in Batu Kawan. Another trend is that factories are more sophisticated and built-to-suit today. Industrial properties such as factories now have modern facilities and multifunctional layouts to create better workflow. High-speed connection is crucial too, with there being talk about including 5G coverage in these places."
Most of the factories are being built by the MNCs and SMEs themselves to tailor to the specific designs and requirements for their respective products and services, he adds.
Challenges and future outlook
Geh addresses some of the problems faced by the industrial segment in Penang.
"Land availability is a challenge. Most of the MNCs and SMEs look for plots that typically range between 20 and 30 acres to run and accommodate their businesses. Such tracts are not easy to find in Penang. As a result, some of these businesses have shifted their focus to neighbouring states such as Kedah."
Another problem is environmental waste. "Although there are existing policies in place, toxic waste is still a tricky matter for these businesses. There has to be ample, allocated space [for the waste] and a good [recycling] system in place," says Geh.
In addition, there is a lack of accommodation allocated for foreign workers, although the state government has been making efforts to address this issue lately.
"We find that the process for approvals and various kinds of licensing has been smooth and we hope that this trend will continue to boost the investments and property values in Penang," he states.
With all these key drivers and improved connectivity with the RM46 billion Penang Transport Master Plan, Geh believes the future of the industrial segment in Penang is positive.