This article first appeared in City & Country, The Edge Malaysia Weekly, on August 16, 2021 - August 22, 2021.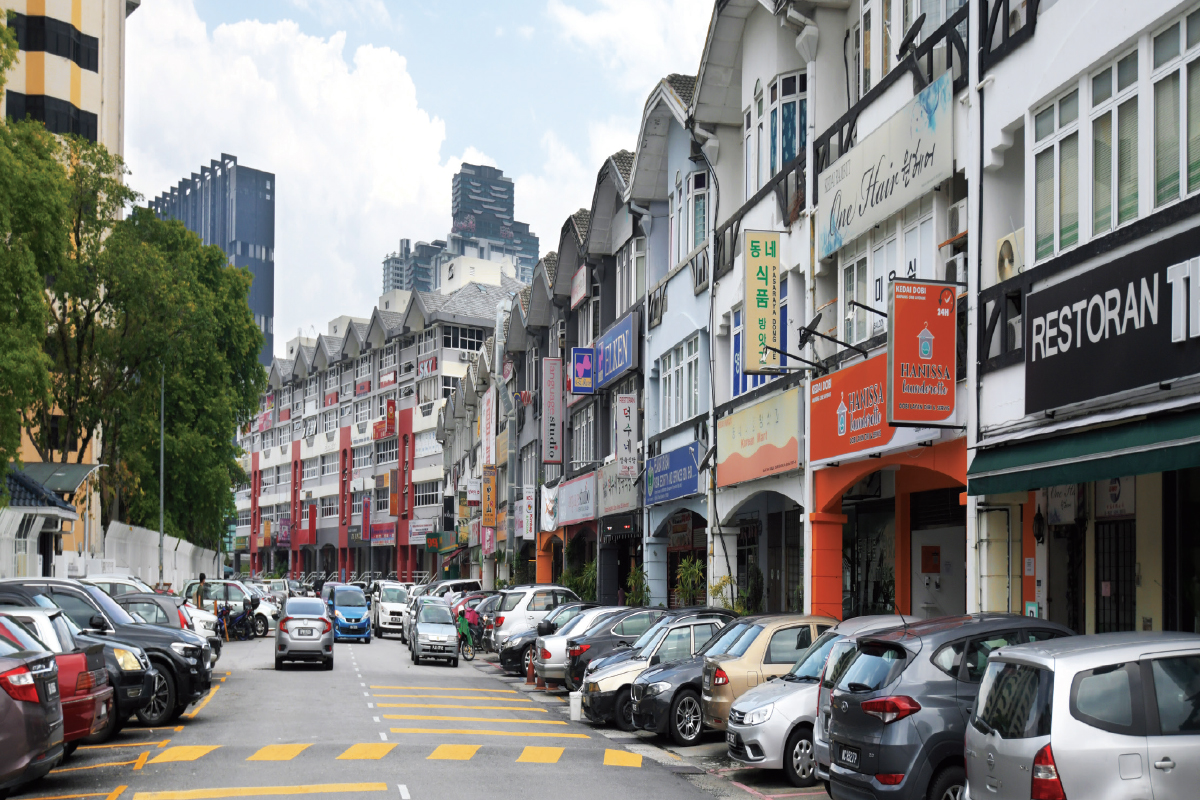 Developed by Perdana Parkcity Sdn Bhd, a subsidiary of Samling Group, in the mid-1990s, One Ampang Avenue in Ampang comprises a mix of residential and commercial components.
According to Savills Malaysia Sdn Bhd managing director Datuk Paul Khong, the area has attracted many foreigners over the years, especially Koreans, subsequently transforming it into a Korean town in recent times. During the 2000s, the commercial area was one of the popular expatriate locations in Kuala Lumpur, as many Korean restaurants were set up then and they attracted a bit of a crowd.
Jalan Ampang Utama 1/1 and 2/2 in One Ampang Avenue consist of mainly 3 to 6-storey shopoffices. "The food and beverage businesses in these streets are mostly occupied by Korean restaurants, along with local businesses that cater for the needs of the surrounding [community]. Commercial properties here have about 65% to 70% occupancy, which is relatively good, given that this place is about 25 years old," says Khong.
The ground-floor shops in Jalan Ampang Utama 1/1 are mostly occupied by Korean grocery stores and eateries such as Phill Mart, Hanaro Mart, Chil Bo Food & Trading, Hanwoori Restaurant and Kim Ga Ne Korean BBQ.  Among the other businesses here are salons, launderettes, convenience stores and courier services. JEKS Group of Company, Stagno Tech Sdn Bhd and Malaysian Association of Hotels (MAH) are some of the key occupiers of this row of shopoffices.
In Jalan Ampang Utama 2/2, one would be able to see a number of Korean restaurants such as Jal Dae Ji, Su Ok San and Ko's Kimbap and Pocha. Other businesses here include language and tuition centres, 99 Speedmart, some local cuisine eateries, veterinary clinics and a local hotel, Hotel Seed.
If you are craving for Korean barbecue, do not miss out on Dae Jang Geum Korean BBQ. "Presumably made popular by the Korean TV series Dae Jang Geum, the restaurant's barbecue grill section has always been my favourite spot — you can cook your own meat, be it pork, beef or chicken," says Jenn, who used to dine regularly at the restaurant prior to the Movement Control Order.
"I would always opt for the sliced fresh pork belly and sliced marinated pork belly. A wide range of banchan (side dishes) are served, including kimchi, Kongnamul Muchim (seasoned soybean sprouts), Sigeumchi Namul (seasoned spinach) and Myeolchi Bokkeum (soy maple/stir-fried anchovies), and one can get unlimited refills," she adds.
Khong says there have been no property transactions in the vicinity lately. The last transaction was in 2017, when two blocks of 6-storey strata shopoffices in Jalan Ampang Utama 2/2 were sold for RM3.65 million each. The ground floors measure 1,710 sq ft, and the upper floors are 1,830 sq ft, giving each block a built-up of about 10,900 sq ft. Due to the lack of transaction data, it is hard to work out the rental yield of these properties.
"As for the 4½-storey shopoffices in Jalan Ampang Utama 1/1, they have built-ups of 9,000 sq ft. Rental rates for the upper floors range from RM1 to RM1.10 psf per month, giving yields of 3.5% to 4% per annum. However, no transactions have been recorded for these properties lately," he says.
Being a mature and established area, Khong notes that in the last five years, an average of only nine residential transactions had been recorded per annum. The prices of residential properties have remained stable at RM300 to RM400 psf in 2019 and 2020.
"The three high-rise residential developments in the area — namely Northpoint Condominium, Eastside Condominium and Southview Condominium — have built-ups of 950 to 1,390 sq ft and were sold at RM360,000 to RM480,000 in 2019 and 2020. Monthly rents range from RM1,500 to RM2,000, which translate into a yield of 5% a year," he says.
One Ampang Avenue is easily accessible via Jalan Ampang, Middle Ring Road 2 and the Ampang-Kuala Lumpur Elevated Highway, while the Ampang Point Shopping Centre is only a five-minute walk away.
Khong says the popular hub for Koreans in the mid-2000s has matured over the years and grown into a slightly more diverse neighbourhood with a healthy demographic mix of locals and foreigners. 
"Given the proximity to the Embassy Row, along with factors such as convenient access and an established neighbourhood, this area continues to remain as an attractive investment location and an interesting residential locality," he concludes.