This article first appeared in Enterprise, The Edge Malaysia Weekly, on May 8, 2017 - May 14, 2017.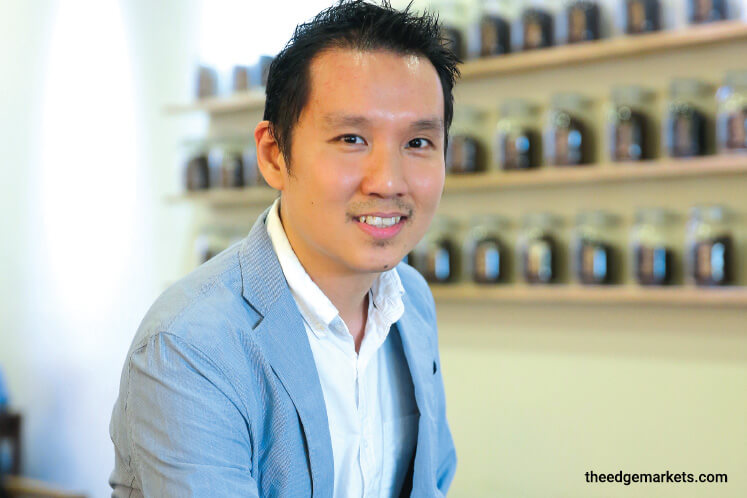 At 23, Andy Yeap was earning a steady income as a white-collar worker. However, as a fresh IT graduate living in the big city, he found that his income was nowhere near what he needed to survive.
"I was earning RM2,500. After spending on necessities, I found I had nothing left at the end of the month for savings. It was like a slap in the face," he recalls ruefully.
Determined to increase his income, Yeap quit his nine-to-five job to become a flight attendant on a Dubai-based luxury commercial airline, where he earned up to four times more than his previous salary. While happy with his decision, he still felt that there was more he could do. He decided that he could earn even more in the cockpit, so he returned to Malaysia to get his pilot's licence.
Yeap took out a loan to finance the RM250,000 in tuition fees. Little did he know that he would be joining the ranks of some 2,000 jobless pilots in Malaysia upon graduation. "I sent my résumé to 200 airlines and not even one got back to me," he says.
Even so, Yeap was one of the more fortunate ones. As he was a degree holder, there were many decent jobs available to him while he waited for the perfect one to materialise. His fellow pilots, however, were not so lucky as they did not have other qualifications. "Some of them even ended up working at fast food joints and cafés," he says.
The employment rate for airline pilots and other aviation-related careers is very low, despite the growing need. According to the Boeing: Pilot and Technician Outlook report, published by the aircraft manufacturer in 2015, it was estimated that 617,000 commercial airline pilots, 679,000 maintenance technicians and 814,000 flight attendants would be needed globally over the next two decades as airlines continued to build their fleets.
The demand cannot be met by the available talent due to multiple issues in the industry. For instance, some airlines only hire local talent while others set impossibly high standards or have insufficient funding to train new talent. Sometimes, it is difficult to hire new talent because the old talent refuses to budge.
"If you are hired as a pilot, you will probably work there for life. Very rarely do pilots voluntarily quit their jobs. Usually, they leave because they are forced to retire, or suffer from some medical complications, or are fired," says Yeap.
In any of the above scenarios, it would be difficult for them to get another job in the industry. It would be equally difficult to get one in another industry as they would lack the relevant experience. 
"If they applied to a bank, for example, with 10 years of piloting experience, it would not do them any good or give them any validation for the job they are applying for," Yeap points out.
As he was unable to secure his desired job, he started asking his seniors how they managed to get into the industry. But they were tight-lipped because securing a job in this industry was a closely guarded secret. 
Yeap began to wonder if he had made the right decision. He owed the bank a whopping RM400,000 (including interest) for his training and needed to find a way to pay off the loan. "Imagine being in my position — 32 years old and jobless while my friends were married with children and had stable jobs."
Finally, after two years of pounding the pavement, Yeap was hired by an Indonesian airline. But he was not out of the woods yet. Being a Malaysian, he was required to pay for his own training to be certified for certain types of aircraft that were beyond the scope of his pilot licence. This training would set him back another US$8,000 to US$10,000.
Those who secured jobs with Malaysian airlines had their certification fees taken care of. If the airline made them pay their own way, they were looked upon as rejects. 
"That was how my friends viewed me back then. In fact, it was how I viewed myself. I agreed to pay for the training because I had no choice. I needed that job," says Yeap.
Growing an idea
After going through all this, Yeap decided to start a blog — FlyGosh.com — in 2010 to share his experience. He included tips, tricks, stories and aviation news on his blog.
Although he had started the blog for fun, the pertinent information he shared — especially the salaries in the industry — started to gain traction. The website began to generate good traffic.
"This question is very common — how much do the cabin crew and pilots earn? People want to know and compare between airlines. So, I put it out there in black and white. And every time I did, I was able to drive a crazy amount of traffic to my site, thanks to those who shared my links on Facebook," says Yeap.
"One day, an airline approached me and asked if I could post a pilot vacancy ad on my website. That was how the first project was born."
It did not happen overnight. Yeap ran FlyGosh.com for four years before seeing the fruits of his labour. He started by posting job vacancies in the aviation industry. He went from knocking on doors to get ads to being selective about which companies he would allow to advertise on his platform. He also widened the scope from pilots to aircraft technicians and engineers.
Gradually, word got out and his business blossomed. Yeap began to accept commissions to supply pilots and cabin crew, not only for commercial airlines but also for private ones. 
Private airlines do not advertise job vacancies as they are typically owned by high-profile individuals and families. These airlines usually accept only the cream of the crop — those with good personalities and extensive experience. Sourcing this type of talent required Yeap to take the recruitment process offline.
To expand his business, he also accepted consultancy requests and enrolment advertisements from pilot training centres. "Pilots, like I mentioned earlier, need to get training beyond what they learn for their licence. Unlike a driver's licence, where you are free to drive a Honda or a Toyota, you have to take separate training for different types of aircraft," says Yeap.
"That is also why pilots will not quit their jobs. Quitting and moving to another company means they will have to take additional training. Imagine being over 40 years old and having to study. Of course, they do not want that. For me, that is good news because I receive commissions for every pilot I supply."
Long-term relevance 
Back when Yeap was working as a flight attendant, he enjoyed having long, insightful conversations with the first-class passengers. "Out of curiosity, I asked some of them how much their flight cost. I was shocked to learn that some of them spent up to RM30,000 for their 10-hour first-class flight. If this person can spend this kind of money on transport, how much does he earn?"
So he kept talking to these passengers. He wanted to learn their secrets. What were they doing differently and how could he be like them? 
What Yeap learnt, surprised him. Although many of the first-class passengers were business owners, many did not even have a degree. He felt ashamed. Here he was with his degree, but was not making the most of himself. "That was why I was determined to start and grow a business," he says.
One lesson that Yeap learnt from these conversations is that the key to a successful business is scalability. And he is confident that the company he is running is highly scalable because of the nature of his business.
"Globally, there are about 10,000 airlines and millions of employees. If I could earn RM100 from each employee, my business would be a billion-dollar company. The best part is that there will never be an end to this demand as people will always want to be employed in the aviation sector," says Yeap.
Some may argue that one day, people will no longer need flight attendant or pilots as these functions could be automated. To that, Yeap responds: "If you are a first-class passenger, would you prefer to be served by a human or a robot? Would you prefer the flight to be completely on auto pilot or have a human pilot on standby in cases of emergencies?" 
Despite this, it has not been plain sailing. Yeap had issues when it came to establishing the company's credibility. Being an online business, the only way to ensure credibility is to have high visibility, especially in terms of search results. 
"There are two ways to get to the top of the search engine — by paying money or by having high traffic. I do not have that much money to spend, which is why I have had to work really hard to ensure that I get high traffic on my website," says Yeap.
"When I first started the website, there was nothing like it on the internet, so I was able to grow my traffic very quickly. I was lucky to be at the right place at the right time."
The other advantage Yeap has is his experience in the industry. He not only has strong connections but also high empathy for and understanding of all parties in the sector. 
Trust, however, did not come so easily. Yeap had to look for other means to elevate his reputation as an expert in the field. "I am dealing with airlines and they are giants. Why would they trust someone like me to supply them with human capital? 
"I figured that I would write a book. Four years ago, I published my ebook — FlyGosh Pilot Secrets: Your Ultimate Guide to Getting Your Pilot Job. It is still selling today. To be honest, it was very hard to write a book. It took me a few months to make sure that the content had value and was easy to understand. But it was worth it because it added to my credibility as a founder of the business."
Yeap attributes the growth of his business to the unforgiving job market, not only the aviation industry. "People say the economy is going to be tough moving forward and I agree, but my company will prosper because people will always need jobs. For someone earning minimum wage at a coffee shop, being offered a job as a flight attendant is life-changing. Suddenly, they are earning five figures a month and are able to pay off their debts and help their family get a better life," he says. 
"If I had been selling health supplements or something like that, maybe my company would have been shut down by now. But there will always be a need for human capital, no matter how bad the economy."