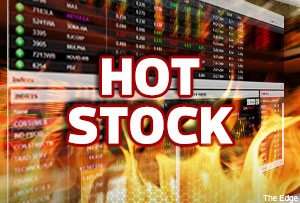 KUALA LUMPUR (Oct 31): Tek Seng Holdings Bhd share price soars as much as 7% to 89 sen right after the opening bell following the company's announcement on a proposed bonus issue of warrants.
At 10.30am, the stock retreated to 87 sen, up four sen or 4.82% with 18.25 million shares changing hands.
Tek Seng had featured as a Stock with Momentum on The Edge Markets on last Tuesday (Oct 21).
The stock price has more than doubled since June climbing from 30 sen.
The Penang-based PVC products manufacture announced to Bursa Malaysia yesterday that it has proposed a bonus issue of up to 120 million free warrants on the basis of one free warrant for every two existing Tek Seng shares.
It said the exercise price of the warrants will be pegged at 25 sen per warrant, being the par value of Tek Seng shares.
"This represents a discount of 40 sen or 61.54% to the theoretical ex-all price of Tek Seng shares of 65 sen, calculated based on the five-day weighted average market price of Tek Seng shares up to and including Oct 24 of 85 sen per Tek Seng share," it said.
It said the proposed bonus issue of warrants is not expected to raise any funds as the warrants will be issued at no cost to the entitled shareholders,
"If the warrants were fully exercised, the company would raise proceeds of approximately RM300 million based on the indicative exercise price of 25 sen per warrant," it said.
The proceeds, according to Tek Seng will be utilised for working capital and to finance the group's day to day operations. 
As such, the company is also seeking to increase its authorized share capital from RM100 million comprising 400 million Tek Seng shares to RM500 million comprising two billion Tek Seng shares.