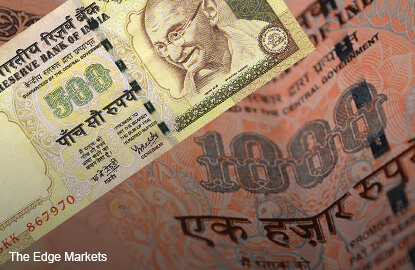 (Jan 20): India's unprecedented ban on high-denomination currency bills has led to a mismatch in cash supply that has flummoxed some economists and data crunchers.
Indians withdrew about 600 billion rupees more than the 9.1 trillion rupees of currency in circulation as of Jan 13, according to a report submitted by the Reserve Bank of India to a parliamentary panel on Wednesday. A copy of the document was seen by Bloomberg News.
"This is usually not the case," said Sujan Hajra, chief economist at Anand Rathi Securities Ltd in Mumbai, who was a director at the RBI from 1993-2006. He added that cash with public should be lower than currency in circulation "but then you don't have demonetization usually."
Clarity will emerge only once the central bank reconciles and publishes final figures, he said.
The RBI's spokeswoman declined to comment. The central bank has refused to share the amount of invalidated bills that have been deposited and said on Jan 5 that it is still counting the notes to eliminate errors.
In a shock move late on Nov 8, Prime Minister Narendra Modi cancelled 15.4 trillion rupees of the 17.7 trillion rupees in circulation and pledged to swap the worthless notes with fresh bills. Between Nov 9 to Jan 13, the RBI printed about 5.53 trillion rupees of new notes and put in circulation 25,197 million bank notes aggregating 6.78 trillion rupees, taking total currency in circulation to about 9.1 trillion rupees, according to the RBI's document on Wednesday. As on Jan 13 the public had withdrawn close to 9.7 trillion rupees from bank counters and cash-dispensing machines, the document said.