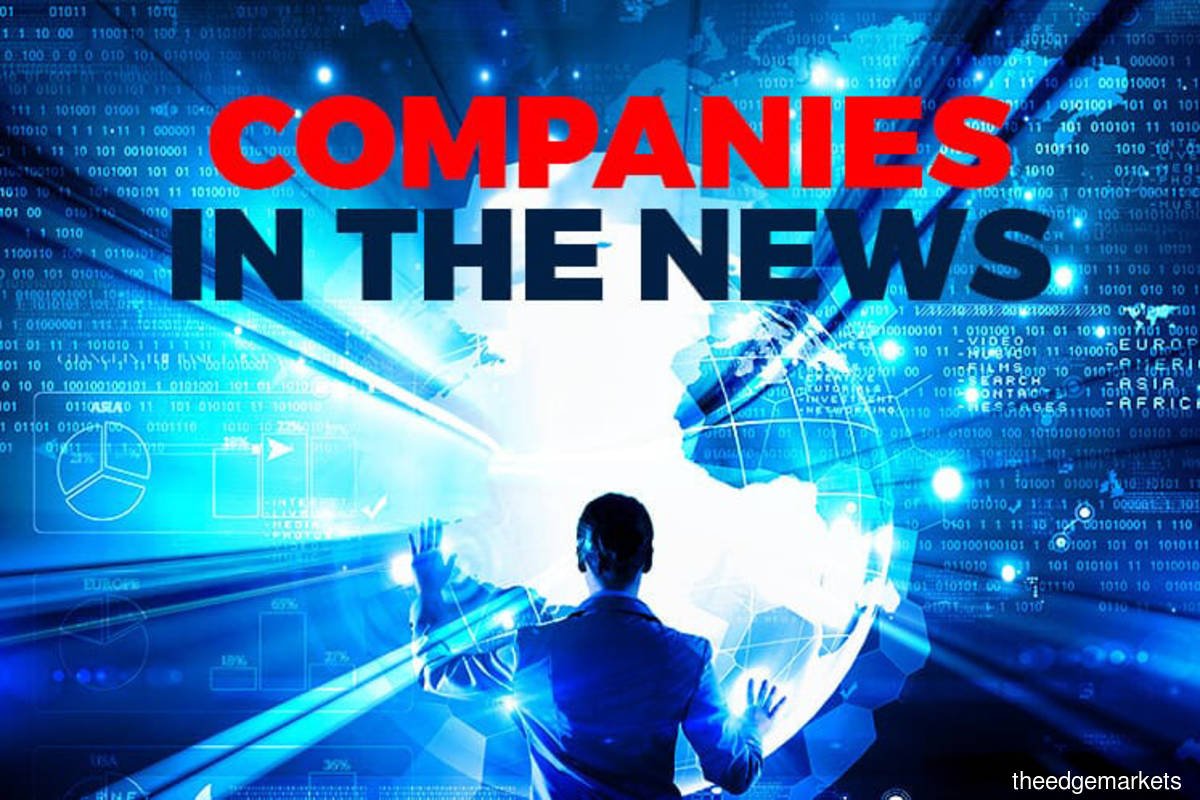 KUALA LUMPUR (Oct 13): Based on corporate announcements and news flow on Wednesday, companies in focus on Thursday (Oct 14) may include UMW Holdings Bhd, FGV Holdings Bhd, Solarvest Holdings Bhd, Selangor Dredging Bhd, Malakoff Corp Bhd, Gas Malaysia Bhd, MMC Corp Bhd, CIMB Group Holdings Bhd, TIME dotCom Bhd, Sarawak Consolidated Industries Bhd, Zhulian Corp Bhd, Maxis Bhd and Green Packet Bhd.
The UMW group's automotive sales rose to 22,193 units in September compared with 9,512 units sold in August as operations gradually normalised. The firm said both UMW Toyota Motor (UMWT) and its associate company Perusahaan Otomobil Kedua Sdn Bhd (Perodua) continued to ramp up production to hasten delivery of outstanding orders. It said UMWT's sales more than tripled to 8,033 units in September, from the 2,524 units registered in August, taking year-to-date sales to 46,118 units, 23.5% higher than the 37,339 units registered in the corresponding period of 2020.
FGV Holdings Bhd aims to capture a 3.5% share of the local fragrant rice market by the end of 2025 under the group's household brand Saji. FGV said this would be made possible with the implementation of the Fortified Field Fragrant Rice programme by its subsidiary FGV Integrated Farming Holdings Sdn Bhd, which optimises local fragrant rice paddy farming through smart and effective agricultural practices and technologies. FGV group chief executive officer Mohd Nazrul Izam Mansor said the group also plans to expand its fragrant paddy farming area to 10,000 hectares in the next five years.
Solarvest Holdings Bhd, a clean energy specialist, has transferred its listing status to Bursa Malaysia's Main Market, becoming the first pure-play solar company in the market. Group chief executive officer Davis Chong Chun Shiong said this marks a significant milestone not only for Solarvest but also for the renewable energy industry in Malaysia.
Selangor Dredging Bhd's 30.99%-owned indirect Singapore-listed associate Fortress Minerals Ltd's subsidiary Fortress Resources Pte Ltd (FRPL) has entered into a new 15-month offtake agreement for iron ore with a third-party domestic steel mill (DSM) in Malaysia under a deal in which FRPL will deliver to DSM 375,000 wet metric tonnes of iron ore from Oct 11, 2021 to Dec 31, 2022. Fortress Minerals said the deal would provide recurrent income and cash flows to Fortress Minerals and strengthen its financial position.
Malakoff Corp Bhd and Gas Malaysia Bhd, both members of the MMC Group, have announced a joint venture company to undertake operations and maintenance (O&M) services for cogeneration — simultaneous production of two or more forms of energy from a single fuel source — plants in Malaysia. Gas Malaysia Cogen O&M Sdn Bhd will be 51% owned by Malakoff's subsidiary Malakoff Technical Solutions Sdn Bhd, and 49% by Gas Malaysia's subsidiary Gas Malaysia Ventures 1 Sdn Bhd.
Former CIMB Group Holdings Bhd chief financial officer (CFO) Shahnaz Farouque Jammal Ahmad has joined TIME dotCom Bhd  as its CFO, with the new appointment effective on Wednesday.
Sarawak Consolidated Industries Bhd (SCIB) has clinched an engineering, procurement, construction and commissioning contract worth RM13.28 million under the Daif School Redevelopment Project in Sarawak. The contract, which involves two schools in Sibu, would span from Oct 27, 2021 until June 16, 2022.
Zhulian Corp Bhd's net profit for the third quarter ended Aug 31, 2021 fell 13% to RM9.57 million from RM10.99 million a year ago, as revenue declined 14% to RM36.67 million from RM42.74 million. The company announced a third interim dividend of three sen per share, bringing total dividend issued to date to nine sen.
Maxis Bhd has proposed to acquire managed network and security services company MyKRIS Asia Sdn Bhd for up to RM157.5 million, which would be the telecommunications company's largest acquisition to date. The group said that its acquisition of MyKRIS Asia — the main operating subsidiary of LEAP Market-listed MyKRIS International Bhd — includes adding a pool of experts comprising 70 qualified engineers and support team, which is expected to enhance Maxis' capabilities. It added that the move represents the foundation for future 5G readiness from private network to 5G fixed wireless access.
Green Packet Bhd's wholly-owned subsidiary Green Packet Global Holding Sdn Bhd has aborted its plan to subscribe to 20% of equity interest in Mirai HDC 1 Sdn Bhd, as well as to redeemable convertible exchangeable preference shares in Mirai Alpha Sdn Bhd. GPGH (formerly Next Telecommunications Sdn Bhd) signed agreements with both companies on June 8. Mirai HDC 1 intends to venture into the business of hyperscale data centre (HDC) and be an owner of a HDC building which it would buy from Mirai Alpha.