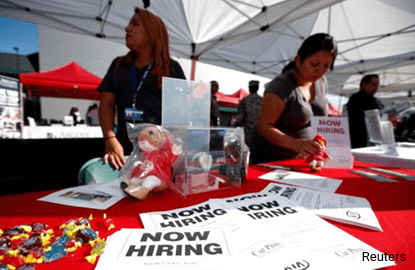 WASHINGTON (Feb 23): The number of Americans filing for unemployment benefits rose slightly more than expected last week, but the four-week average of claims fell to its lowest level since 1973, pointing to strengthening labour market conditions.
Initial claims for state unemployment benefits increased 6,000 to a seasonally adjusted 244,000 for the week ended Feb 18, the Labor Department said on Thursday. Data for the prior week was revised to show 1,000 fewer applications received than previously reported.
It was the 103th straight week that claims remained below 300,000, a threshold associated with a healthy labor market. That is the longest stretch since 1970, when the labour market was much smaller. The labor market is at or close to full employment, with the unemployment rate at 4.8%.
Economists polled by Reuters had forecast new claims for unemployment benefits rising to 241,000 in the latest week.
The four-week moving average of claims, considered a better measure of labor market trends as it irons out week-to-week volatility, fell 4,000 to 241,000 last week, the lowest reading since July 1973.
U.S. financial markets were little moved by the data.
Minutes of the Federal Reserve's Jan 31-Feb monetary policy meeting published on Wednesday showed that many policymakers believed another interest rate hike might be appropriate "fairly soon" if labour market and inflation data meet or beat expectations.
The U.S. central bank raised its benchmark overnight interest rate last December. It has forecast three rate increases this year.
A Labor Department analyst said there were no special factors influencing last week's claims data. Claims for Wyoming, Virginia and Hawaii were estimated.
Last week's claims report covered the survey period for the Labor Department's nonfarm payrolls data for February. The four-week average of claims fell 6,500 between the January and February payrolls survey weeks. This suggests another month of strong job gains, after payrolls increased 227,000 in January.
Thursday's claims report also showed the number of people still receiving benefits after an initial week of aid fell 17,000 to 2.06 million in the week ended Feb 11. The four-week average of the so-called continuing claims declined 10,750 to 2.07 million.