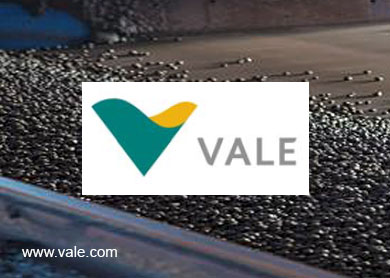 (Nov 7): Vale SA inaugurated a $1.4 billion port terminal in Malaysia today as the world's biggest iron ore producer seeks to cut costs of shipping to Asia from Brazil with prices at five-year lows.
The facility on the Malacca Strait to stock and blend supplies will help Rio de Janeiro-based Vale to compete against BHP Billiton Ltd. and Rio Tinto Group in Australia, according to Paul Gait, an analyst at Sanford C. Bernstein Ltd. Up to last month, eight Valemax vessels -- the biggest ore carriers that can haul as much as 400,000 metric tons -- had already called at the Teluk Rubiah site to discharge cargoes, with five smaller Capesizes loaded, Vale said in an Oct. 30 statement.
"Vale is significantly farther away from the main centers of demand than its Australia competitors," London-based Gait said by phone on Nov. 4. "What Vale can do is to lower the apparent cost of logistics, shrink the world, if you will, and make distance not matter so much."
Iron ore tumbled 44 percent this year as increased supplies from Vale, BHP and Rio Tinto created a glut, prompting producers to squeeze costs to preserve margins. The port is Vale's latest initiative to erode the geographic disadvantage it has compared with Australian competitors, which have lower shipping costs due to their proximity to Asian buyers. Valemax vessels don't yet have full access to ports in China, the world's biggest buyer.
'Lower Its Cost'
"Malaysia is fairly important to Vale's strategy right now given the Valemax ban," Jeremy Sussman, an analyst for Clarkson Capital Markets in New York, said in an e-mail. "China accounts for about 50 percent of Vale's shipments, so the ability to lower its cost of delivery there is extremely important."
The facility, coupled with the commissioning of more Valemaxes, should enable Vale to save $3 to $5 a ton on costs, said Andreas Bokkenheuser, an analyst at UBS AG. Freight accounts for about 33 percent of Vale's $67-a-ton breakeven cost in terms of ore landed in China with 62 percent content, the bank estimates. Even if the ban were lifted, Teluk Rubiah would still be useful as a blending facility, said Bokkenheuser.
Vale may use the new site to blend down its higher-grade, 65 percent ore from Carajas to suit customers in China, many of whom don't demand that quality, according to Ian Roper, a Singapore-based analyst at CLSA Ltd. That could enable Vale to charge a higher premium for customers who do take the higher- grade ore, including buyers in Japan and Korea, he said.
BHP's Aspiration
BHP and Rio -- which together with Vale account for about 59 percent of the global seaborne market -- are also reducing costs while boosting volumes. BHP's aspiration is to be the all- in lowest-cost producer, supplanting Rio, Jimmy Wilson, head of the iron ore unit, told reporters last month. A cost-cutting drive by Rio has stripped out $3.2 billion of expenses since 2012, Chief Executive Officer Sam Walsh said in August.
The Teluk Rubiah center, in Lumut, Perak state, north of Kuala Lumpur, can receive and export 30 million tons a year, and has three unloaders, one loader and five storage yards. The idea is to move inventories that Vale has in Brazil nearer to customers, Chief Executive Officer Murilo Ferreira said Oct. 30, and the CEO said today at the inauguration that the new facility would be a strategic center for customers in Asia.
"It allows us to increase the efficiency of transportation trough bigger ships and to cut the delivery time to steelmakers given that Malaysia is just 10 days away from the clients in the region," Vale said in an e-mailed reply to questions.
Double Shipments
Vale, which plans to double shipments to China in the next five years, has yet to convince China to allow Valemaxes to anchor at the country's ports because of safety concerns, Ferreira told reporters on July 31. The entrance still wasn't cleared despite one of its ships having called in China in October, the company said Oct. 30. The Brazilian company started operating Valemaxes in 2011 in a bid to cut transport costs.
The inauguration of the Malaysian center adds to two shipping agreements signed by Vale in September. Vale will transfer four Valemaxes to China Ocean Shipping Co., China's largest shipper, and charter them for 25 years. Cosco will also build 10 vessels of similar size to ship Vale's ore, according to a Sept. 12 statement. Vale signed an agreement with China Merchants Group on Sept. 26 to have 10 carriers built by the Chinese company for hauling ore from Brazil.
It takes about twice as long to ship ore to China from Brazil than from Australia, according to Ralph Leszczynski, Singapore-based head of research at Banchero Costa & Co., a Genoa-based shipbroker. The new facility makes sense for the strategy of getting more ore into China and increasing market share, he said.
Ore of 62 percent content fell to $75.38 a dry ton yesterday, the lowest since 2009, according to Metal Bulletin Ltd. Averages prices may extend losses in 2015 as the glut swells, according to Goldman Sachs Group Inc. and Citigroup Inc.