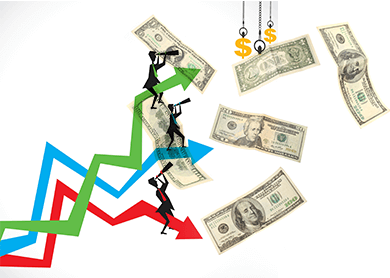 (June 3): U.S. stocks eased on Tuesday as a jump in bond yields hit utilities and other top dividend payers, but energy gains and optimism Greece is near a deal with creditors limited losses.
The S&P utility index fell 1.4 percent, leading losses among S&P sectors, after U.S. long-dated Treasury debt yields rose to two-week highs. Utilities and other dividend paying shares tend to compete with bonds as investments.
Energy shares gained along with oil prices. The S&P energy index rose 0.5 percent, leading the day's gainers.
"Today the utilities are way underperforming, obviously because people are thinking rates are going to go up sooner rather than later," said Uri Landesman, president of Platinum Partners in New York.
Greece's creditors drafted the broad lines of an agreement to put to the leftist government in Athens in a bid to conclude four months of acrimonious negotiations and unlock aid.
"I don't think Greece is going to be the thing that upsets this market," Landesman said.
The Dow Jones industrial average fell 28.43 points, or 0.16 percent, to 18,011.94, the S&P 500 lost 2.13 points, or 0.1 percent, to 2,109.6 and the Nasdaq Composite dropped 6.40 points, or 0.13 percent, to 5,076.52.
Shares of Macy's rose 2.5 percent to $68.49. Reuters reported several hedge funds have asked the U.S. department store company to consider options for its real estate, including selling some major sites and then leasing them back.
Other gainers included shares of General Motors, up 0.1 percent to $36.22, after it forecast U.S. industry sales to finish May at the strongest pace since January 2006.
Worries about when the Federal Reserve will bump up interest rates added to caution in the market. Fed board member Lael Brainard said the economy's recent poor performance may be more than transitory, as the full impact of weak consumer spending, low investment and the strong dollar become apparent.
Shares of steel companies gained, with U.S. Steel up 7.9 percent at $25.78 in its biggest daily percentage gain since January.
Advancing issues outnumbered declining ones on the NYSE by 1,648 to 1,385, for a 1.19-to-1 ratio on the upside; on the Nasdaq, 1,594 issues rose and 1,149 fell for a 1.39-to-1 ratio favoring advancers.
The S&P 500 posted 3 new 52-week highs and 1 new lows; the Nasdaq recorded 93 new highs and 42 new lows.
About 5.5 billion shares changed hands on U.S. exchanges, below the 6.3 billion daily average for the last five sessions, according to BATS Global Markets. - Reuters