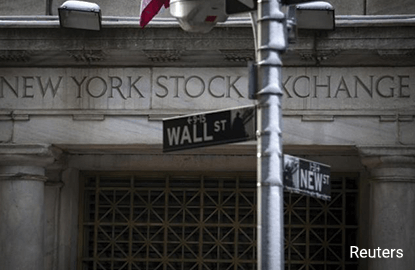 (Sept 2): US stock futures pared some gains on Wednesday, but kept Wall Street on track to open higher, after weaker-than-expected private US jobs data, raising the odds that the Federal Reserve would not raise interest rates this month.
ADP data showed US private employers added 190,000 jobs in August, up from a revised 177,000 in July but short of economists expectations of 201,000.
The ADP data comes ahead of a Friday's more comprehensive non-farm rolls data, the last monthly employment report before the US Federal Reserve meets on Sept 16–17. The Fed is widely expected to make an announcement on interest rates then.
"I don't think this numbers means anything at all. I think it takes a huge miss for it to have any impact on the Fed's decision to hike rates," said Scott Brown, chief economist at Raymond James in St Petersburg, Florida.
"That said, it is looking less likely that the Fed will raise rates in September given the recent market volatility."
The acute market volatility in the last few days has already prompted investors to scale back bets that the Fed will delay raising rates this month.
The Fed has said it will raise rates only when it sees a sustained economy recovery, with a key focus on jobs and inflation.
S&P 500 e-minis were up 9.5 points, or 0.5%, with 314,036 contracts traded at 8.22am ET (1222 GMT).
Nasdaq 100 e-minis were up 25 points, or 0.6%, on volume of 49,221 contracts.
Dow e-minis were up 92 points, or 0.57%, with 56,376 contracts changing hands.
Wall Street closed sharply lower on Tuesday, with renewed concerns about China's economy pushing major indexes down almost 3% and intensifying fears of a long-term selloff.
But fresh intervention from China on Wednesday to support its markets helped calm jittery investors and dragged Chinese stocks out of steep losses to end almost flat.
Many Chinese brokerages pledged additional funds to buy shares, answering government calls to support the stock market.
Still, the S&P 500 is now 10% lower than its May record high, with the prospect of slowing global growth and an impending rate hike curtailing a robust bull run since the depths of the financial crisis.
US factory orders data is expected at 10am ET. New orders for manufactured goods are expected to have increased 0.9% in July after rising 1.8% in June.
Ambarella's shares were down 11.5% at $79.35 premarket after the maker of chips for wearable and action cameras gave a third-quarter revenue forecast that largely fell short of estimates.
GoPro, Ambarella's key customer, was down 6.2% at $41.
Navistar fell 13% to $15.09 after the engine maker said it could face enforcement from the US SEC, and posted its 12th quarterly loss in a row.