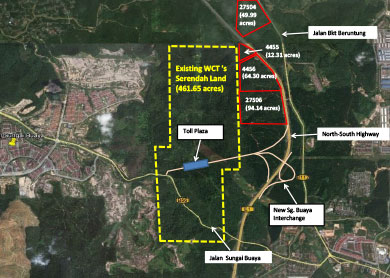 KUALA LUMPUR (Oct 20): WCT Holdings Bhd is buying four pieces of vacant freehold land measuring a total of 220.74 acres in Bandar Serendah, Selangor for a total purchase consideration of RM115.4 million, or approximately RM12 per square feet.
The firm plans to undertake a mix-commercial development project on the said land, but said it is still at a preliminary stage.
In a statement to Bursa Malaysia, WCT said its indirect wholly-owned subsidiary Jubilant Courtyard Sdn Bhd today entered into a conditional sale and purchase agreement (SPA) with Matad Sdn Bhd for the said land.
Jubilant Courtyard is a wholly-owned subsidiary of WCT Land Sdn Bhd, which in turn is a wholly-owned subsidiary of WCT.
WCT said the SPA is conditional upon the prior approval or non-objection of the Economic Planning Unit of the Prime Minister's Department (EPU) for the acquisition. Shareholder approval is not required.
According to WCT, the acquisition enables the firm to increase its land bank and further establish its position in property development.
It will also increase its investment property portfolio to provide long term recurring rental income, it added.
WCT said the acquisition will be entirely satisfied in cash, which will be financed via internally-generated funds.
"The acquisition is expected to contribute positively to the future earnings of the group and thereby improve shareholders' value over the medium to long-term," said WCT.
"The management is confident of the prospect of the land and is optimistic that the future development that will contribute positively to the future earnings of the group," it added.