This article first appeared in The Edge Malaysia Weekly, on June 28, 2021 - July 04, 2021.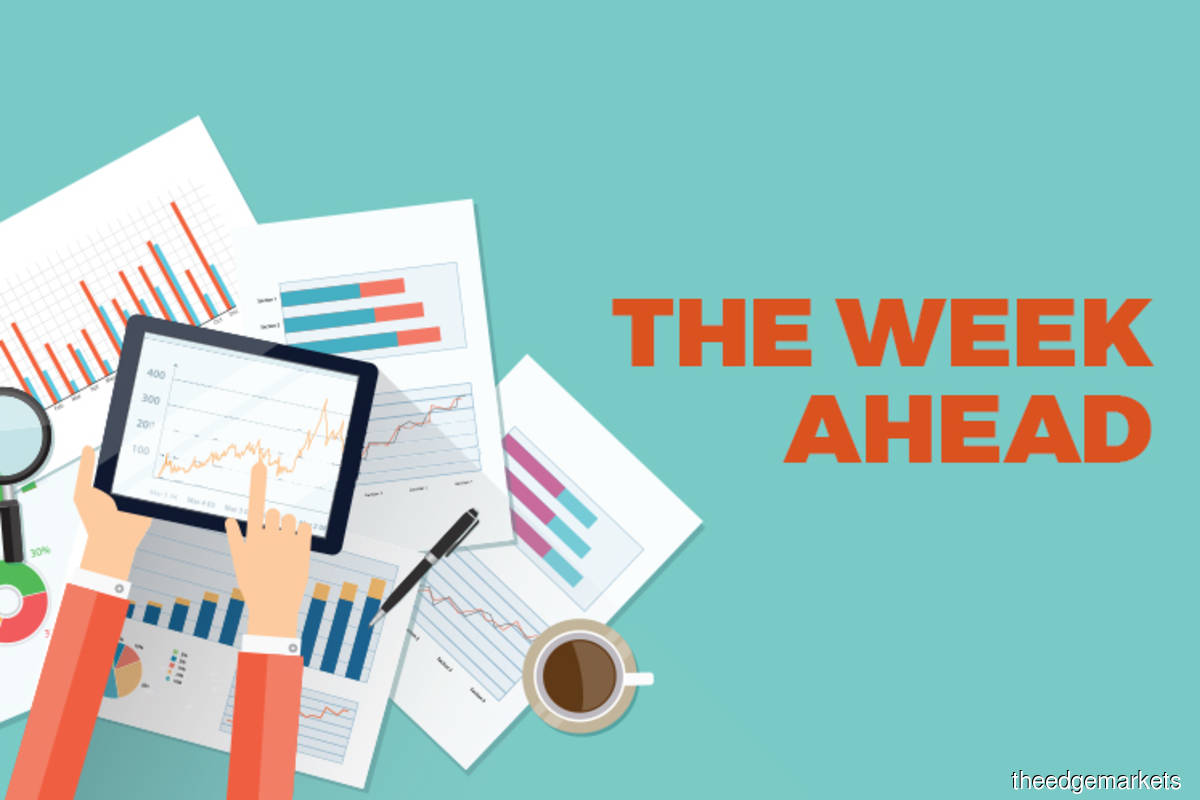 Malaysia will kick off a busy week of global economic events, with import and export trade statistics for May scheduled to be released on Monday. 
Malaysia's trade performance in April beat market expectations for the third consecutive month, rising 43.2% year on year to RM190.8 billion. Exports increased 63% y-o-y, primarily inflated by the low base effect, while imports rose 24.4% y-o-y. Economists say May's trade is likely to see growth before the low base effect dissipates in the second half of 2021.
Apart from Malaysia, South Korea will release its June trade data on Thursday. Bloomberg estimates put the country's export growth at between 31.8% and 34% y-o-y from 45.6% y-o-y in May, while imports are expected to grow by 30.8% to 32% y-o-y from 56.4% y-o-y the previous month. Its trade surplus is likely to increase to US$4.85 billion from US$2.9 billion in May. 
Elsewhere in Asia-Pacific, Hong Kong and Australia are scheduled to announce their May trade data on Monday and Thursday respectively.
A slew of IHS Markit Manufacturing Purchasing Managers' Index (PMI) data — an indicator of manufacturing performance — will be released on Thursday, including Malaysia's. The headline IHS Markit Malaysia Manufacturing PMI eased to 51.3 in May from a record high of 53.9 in April.
Across the Causeway, Singapore's Urban Redevelopment Authority will release its preliminary 2Q2021 private home price index — which rose 3.3% quarter on quarter in 1Q — on Thursday. A significant increase will likely trigger another wave of concerns about macro-prudential cooling measures for the housing market, says UOB Global Economics & Markets Research in a report last Friday.
Other notable data due out of Singapore this week include the month-end bank loans and money supply data for May and the official PMI for June. 
On Tuesday, Vietnam will be the first Asian economy to release 2Q2021 GDP growth figures. It will be releasing various June monthly economic data, including trade, on the same day. Bloomberg estimates that Vietnam's GDP grew 6.7% y-o-y in 2Q2021, while UOB sees it rising by 7% y-o-y from 4.5% y-o-y in 1Q2021. 
Vietnam will also be releasing its Consumer Price Index (CPI) data for June on Tuesday, followed by Indonesia on Thursday and South Korea on Friday. 
Other key regional economic data include China's May industrial profits on Sunday (June 27) and its June official manufacturing and non-manufacturing PMI on Wednesday. According to Bloomberg, China's manufacturing PMI will edge a bit lower to 50.8 from 51.0 in May, while non-manufacturing PMI will likely strengthen further to 55.5 from 55.2 the month before.
The Caixin China manufacturing PMI, which gives an independent snapshot of the country's manufacturing sector, for June is set to be released on Thursday.
This week will see Japan announcing its May retail sales, unemployment rate, preliminary industrial production figures and the 2Q2021 Tankan Survey. 
Meanwhile, the Organization of the Petroleum Exporting Countries (Opec) will hold its 181st meeting of the Opec Conference on Thursday, followed by the 18th Opec and non-Opec Ministerial Meeting on the same day. 
There is no major Asia-Pacific and G7 central bank monetary policy decision this week. 
According to UOB, it will be a regular work week in the region except for Hong Kong, as Thursday is a public holiday to commemorate HKSAR Establishment Day. The Communist Party of China, which has ruled the country since 1949, will mark its 100th anniversary on the same day. The highlight of the event will be a speech by Chinese President Xi Jinping. 
Canada will celebrate Canada Day on Thursday, while the US celebrates Independence Day on July 4. US markets will be closed the following Monday in observance of the holiday.
Elsewhere in the developed economies, the eurozone preliminary June CPI data will be released on Wednesday, with headline inflation expected to ease to 1.8% y-o-y from 2% y-o-y in May, while core inflation may ease to 0.9% y-o-y from 1% y-o-y in May, says UOB.
Over in the courts, major trials include that of former prime minister Datuk Seri Najib Razak's 1Malaysia Development Bhd (1MDB) case, which will resume in the Kuala Lumpur High Court on Tuesday.
Najib's lawyer, Wan Aizuddin Wan Mohammed, is expected to continue cross-examining Mohd Hazem Abdul Rahman, the 10th prosecution witness and former CEO of 1MDB, upon resumption of the trial. Najib faces four charges of using his position to obtain bribes totalling RM2.3 billion from 1MDB funds, and 21 charges of money laundering involving the same amount. 
On Thursday, the trial of Najib's counsel, Tan Sri Muhammad Shafee Abdullah, will resume. Shafee faces two counts of money laundering charges involving RM9.5 million he allegedly received from the former premier and two charges of making false statements to the Inland Revenue Board. 
On the local corporate front, construction services provider Nestcon Bhd will make its debut on Bursa Malaysia's ACE Market on Tuesday. On Wednesday, Haily Group Bhd is launching its prospectus in conjunction with its listing on the ACE Market.
Companies listed on Bursa that will hold their annual general meeting this week include Mah Sing Group Bhd, Alcom Group Bhd, Samchem Holdings Bhd, T7 Global Bhd, Theta Edge Bhd, Lagenda Properties Bhd, Can-One Bhd, Watta Holding Bhd and Rev Asia Bhd.