This article first appeared in City & Country, The Edge Malaysia Weekly, on November 28, 2022 - December 04, 2022.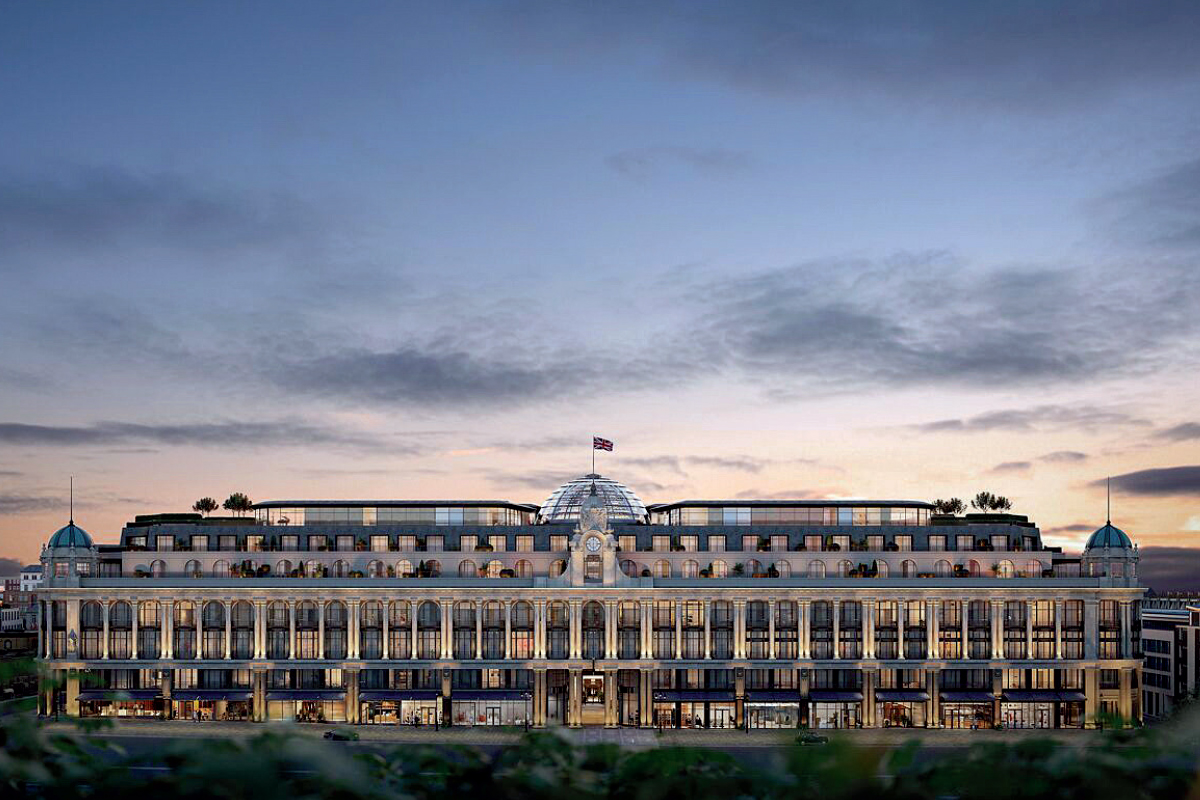 The Whiteley is no ordinary redevelopment project. With a total investment cost of £1 billion (RM5.4 billion), it is the cornerstone of the £3 billion transformation plan for Queensway, one of the busiest shopping streets in Bayswater, West London. The major revamp of Queensway (formerly Queen's Road) by London-based real estate developer Finchatton involves shop front restoration, a series of landmark developments, a review of traffic flow, greening of the area and adding a new public entrance to Hyde Park, one of London's eight Royal Parks.
Meanwhile, The Whiteley, which was once Whiteleys Department Store, is one of the oldest landmark buildings along Queensway. It was built in 1911 and was the first-ever department store in London with a beautifully crafted, Grade II-listed façade.
"The Whiteley is the grand reimagining of the former Whiteleys Department Store. The Whiteley [redevelopment] project is bringing this stunning building back to life for a new generation. In this project, we have carefully retained and restored the façade, its grand staircase, exterior clock and striking glass dome.
"It will bring together 139 world-leading residences with the UK's first Six Senses spa and hotel as well as destination dining and retail outlets. It will not only transform the building, but also the entire area," Finchatton sales director Charles Leigh tells City & Country in an email interview.
Designed by international architectural studio Foster + Partners, The Whiteley also has 20 shops and restaurants to complement the residential and hospitality components. The 139 luxury apartments were officially launched in November 2021 in London, and in Singapore and Bangkok in June 2022. The built-ups range from 418 to 5,665 sq ft (up to 9,256 sq ft for penthouses). More than half of the units will have an outdoor terrace, with each unit having a ceiling height of at least 2.7m. These apartments are priced from £1.5 million.
"By providing a wide range of apartment sizes and floor plans, The Whiteley has a broader appeal than most traditional luxury residential projects. With prices starting from £1.5 million and the availability of alternative living options such as the Six Senses Residences that enable owners to generate income by putting their home back into hotel inventory over the course of the year, The Whiteley has attracted a lot of attention since its launch last year," Leigh shares.
He adds that the apartments have been snapped up by Britons, especially those based in London, who are attracted to the heritage and style that the building offers.
"The ceiling height has been a big draw for purchasers as they look to move out of traditional townhouses or similar older properties to homes that offer a sense of scale and space akin to the style, amenities and security of a new development. The interest and take-up rate since launch have been extremely positive and we are currently seeing a rate of sale that is more than 3.5 times higher than other luxury projects in the capital," he notes.
Leigh attributes the good response to the market positioning and prospect of The Whiteley, which is poised to be a landmark project for London and provides a prime city-centre location while seamlessly combining heritage architecture with modern amenities and service.
"The Whiteley, which is minutes from Hyde Park and the transport hub of Paddington, is a fantastic location in an area steeped in history with an exciting future ahead. Our collaboration with Six Senses also provides residents with more than 60,000 sq ft of amenities, designed according to the unique style and exacting standards that Finchatton and Six Senses are renowned for," Leigh says proudly.
Alongside a 20m pool, contemporary gym and 11 treatment rooms, the Six Senses spa and hotel exude grandness, which is rare in London.
Leigh continues: "Boasting ceiling heights of up to 6m, the framework of the existing building has created a varied selection of unique floor plans with a sense of space not often seen in contemporary London living."
When asked about the overall Bayswater property market, Knight Frank Property Hub's  international residential property associate director Dominic Heaton-Watson says well-connected Bayswater has always been able to attract residents hunting for good housing stock close to transport hubs.
"It is an enviable location in prime central London real estate. It is situated between the prime residential markets of Kensington, Notting Hill and Marylebone while being on the edge of Hyde Park. Consequently, there has always been strong demand for homes in the area, from both domestic and international buyers and tenants," Heaton-Watson tells City & Country via email.
According to Knight Frank data, UK buyers make up more than 70% of the overall sales market, while international demand, including from Europe, Asia, the US and the Middle East, is more prevalent in the new-home market.
"In Bayswater, with the exception of The Lancasters, schemes to date have largely been small-scale period hotel or office conversions with a value of between £1,750 and £2,000 psf. Bayswater sits to the north of Hyde Park and properties there currently trade at an incredibly attractive lower price point compared to some of the other surrounding prime central London locations," he says.
Knight Frank Property Hub international projects executive director Adrian Yeoh highlights that Bayswater has historically been overlooked compared to its neighbours. The presence of a mainline rail station at Paddington was, as is often the case, one of the factors that spurred the conversion of many period residential properties into hotels in the last century. Similarly, Queensway, a historic shopping parade that runs through the area as its central spine, has retail units with rents at a fraction of prime West End shopping streets just over a mile away, says Yeoh.
"However, over the next few years, this looks set to change with the emergence of a handful of new landmark developments, as well as the wider regeneration of Queensway, that will transform the area with new homes, hotels, restaurants, retail, and public spaces," notes Yeoh. "Until recently, psf prices at Bayswater have been held back due to the uncertainty surrounding the Whiteleys shopping centre, a dated shopping mall that occupies an entire block of Queensway, the high street of Bayswater."
On the overall outlook of the property market in Bayswater, Heaton-Watson concludes that the W2 district of London, where Bayswater is located, is well positioned to benefit from the increased emphasis on access to gardens or green space from buyers post-pandemic, particularly those in urban settings.
"Data from our most recent Attitudes Survey, as featured in our latest edition of The Wealth Report, revealed that 62% of ultra-high-net-worth individuals globally are taking proximity to green spaces into strong consideration due to their unique vistas. Thanks to a combination of excellent local amenities, access to green space and walkability through The Whiteley, Bayswater is set to be repositioned as one of the stronger-performing central London markets," he says.
He also foresees Central London housing prices rising by 22.8% over the next five years. Coupled with the weakening British pound, the UK's reputation for world-class education and its competitive transaction costs, London's appeal as an attractive destination for global investors should continue to hold strong for the foreseeable future.