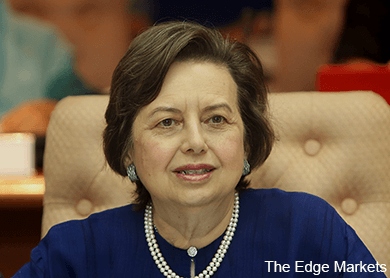 KUALA LUMPUR (Apr 23): Malaysia's growth prospects are bright despite its credit ratings remaining under pressure from a cut by Fitch Ratings, said Bank Negara Malaysia Governor Tan Sri Zeti Akhtar Aziz.
The international rating agency had last month reiterated that Malaysia's credit rating was more than 50% likely to be downgraded due to the country's trade balance and debt obigations of a state-owned investment entity.
"If you compare against our peers, we are at least as good, if not better, in terms of our growth prospects or growth performance," she told reporters on the sidelines of the Invest Malaysia Kuala Lumpur 2015 conference today.
Zeti said for the last several years, Malaysia has shown a resilient, solid financial system and a highly developed bond market.
She added that Malaysia's fiscal position has exhibited a reduction in deficit and its external indebtedness is relatively low compared with some of its peers in the same rating category or above.
Minister in the Prime Minister's Department Datuk Seri Abdul Wahid Omar said the country's financial health as rated by Fitch is up to investors' perception, noting that Moody's and Standard & Poor's have a positive and neutral outlook respectively for Malaysia.