With the return of Malaysia's Healthiest Workplace by AIA Vitality 2018 — a comprehensive survey of the health and well-being of employees in Malaysia for the second year — AIA Bhd aims to help employers identify effective interventions so that a healthier environment could be created for Malaysia's workforce.
This follows the inaugural survey in 2017 that showed an average annual lost cost of health-related absenteeism and presenteeism of about RM2.7 million per organisation. It also showed an alarming rate of productivity loss of an average of 67 days per year due to absence and presenteeism per employee in the country.
While the findings point out that a lot more needs to be done to improve the corporate working environment, AIA CEO Anusha Thavarajah believes this is not for lack of trying. Some 91% of employers in Malaysia have provided at least one intervention, she says, adding that it is probably down to the effectiveness of the interventions implemented as the take-up by employees was low — only 58% participated in at least one intervention at work.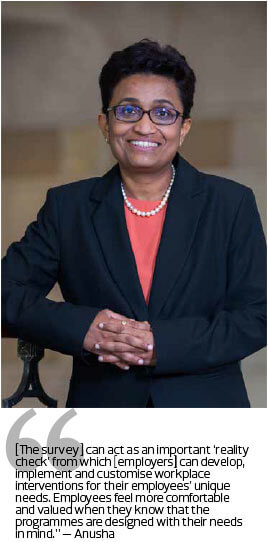 "Even though we see that Malaysian employees participate in a number of wellness interventions, there is still very little awareness. On an average, only 14% of employees are aware of all the interventions that are offered," Anusha says, pointing to the huge opportunities missed and the fact that focus needs to shift on effective interventions by corporates.
"Just like how we go for medical checkups, our goal is to encourage companies to measure the health of their workforce. We know there isn't a one-size-fits-all programme and that each company will find that its employees exhibit different risk profiles. Through this survey, we want to provide employers with personalised data so that they can address the specific issues that they face and identify the most appropriate workplace interventions for their company," she adds.
According to Anusha, employers will be able to understand the health of their organisations better as well as the effectiveness of their current health strategies based on the personalised organisational health reports from the survey.
"This can act as an important 'reality check' from which they can develop, implement and customise workplace interventions for their employees' unique needs. Employees feel more comfortable and valued when they know that the programmes are designed with their needs in mind," she says.
Professor Dame Carol Black, expert adviser on health and work to the Department of Health, England, and chair of Britain's Healthiest Workplace advisory group, agrees with Anusha. She opines that the first step for employers to create a healthy workplace is through the understanding of the existing health profile of their employees.
"The first thing for employers and management in a company is to know the health profile of the company's employees, in terms of their well-being. With the survey, they are going to get that and they could move forward from there," says Black.
The low take-up of the interventions offered by companies shows that employers could be barking up the wrong tree with their initiatives as these might not meet the needs of their employees, she adds.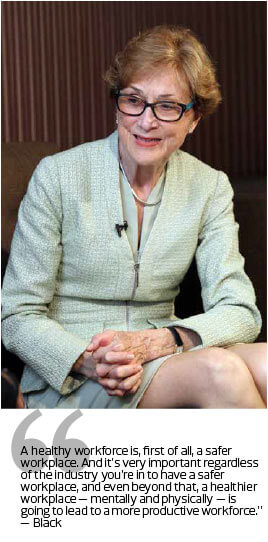 According to Black, the presenteeism level revealed by the first survey shows that there is room for improvement and that the continuation into the second year will give companies that participated in the first survey serial data to measure the effectiveness of their interventions. It will also provide a review of the health profile of their workplace for companies joining for the first time.
"It is important for companies to take up the survey or go through some internal checks because it is likely that they don't have the data to tell them what their employees need and what is effective," she says.

Providing a healthy workplace is in the corporate's financial interest
To corporations, engagement with their employees on providing them with a healthier work environment is corporate social responsibility. But Black says it is in fact in the financial interest of corporations to ensure a healthy workplace because of the significant impact on their bottom line.
"A healthy workforce is, first of all, a safer workplace. And it's very important regardless of the industry you're in to have a safer workplace … and even beyond that, a healthier workplace — mentally and physically — is going to lead to a more productive workforce," she says.
Her views are justified by the key findings of Britain's Healthiest Workplace (BHW), which was established in 2013.
"What we noticed in the results from the companies that have been participating in the survey since 2013 is the better work performance of employees who have been engaging with the initiatives and interventions by their employers compared with those who have never engaged.
"Employees who have just started to engage with these interventions also see better productivity in their work," she says, adding that employees tend to be happier and give 100% in their work when they know that their wellness is important to their employers.
Data provided by BHW on repeat participants from 2014 to 2017 shows that for employees who never engaged in any intervention, work impairment increased about 3.4 percentage points during the period. For employees who engaged in all interventions, work impairment reduced by 3.1 percentage points compared with those who never did. Those just starting to engage managed to reduce their work impairment by 3.3 percentage points.
Click / Tap image to enlarge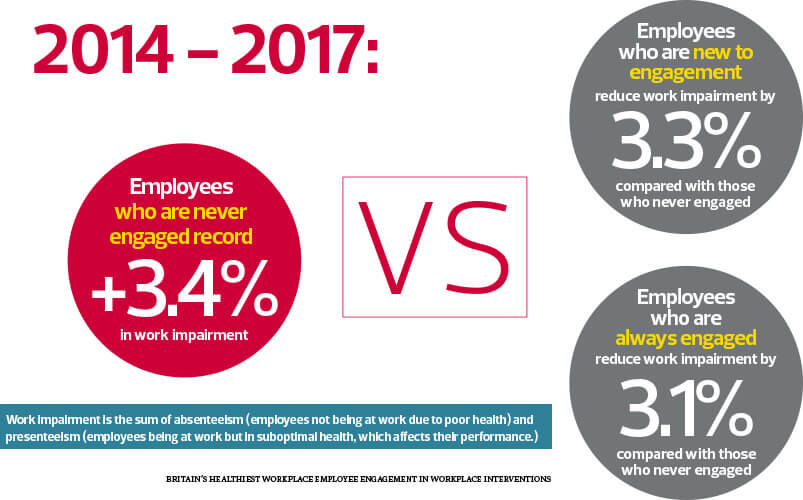 These interventions will play a key role in Malaysia increasing its productivity level, in line with the Malaysia Productivity Blueprint. Launched in May last year, the blueprint aims to achieve an annual labour productivity growth of 3.7% at least by 2020. It is also important for the government to take note of this as Malaysia's labour productivity value rose 3.6% to RM81,039 in 2017, representing 87.8% of the targeted level of RM92,300 by 2020. With only three years left, this would mean that the country needs to record a growth of 4.4% annually in order to achieve its target.

Government and corporate leaders to lead in healthy workplace
On this, Black says the involvement of the government as well as corporate leaders in promoting a healthy workplace will set the tone and culture for companies.
"In the UK, we have a Mental Health First Aid campaign, which was launched by Public Health England (PHE). The programme trains people in basic mental health 'first aid' skills to improve personal resilience and help people recognise and respond effectively to signs of mental illness in others," she adds.
While the campaign is not restricted to the workplace, it helps to reduce the stigma surrounding issues like mental health. Similarly, if corporate leaders are willing to open up about their own anxieties, stress and mental-related issues, that will encourage employees to be more open and willing to talk about mental health without being afraid of how it will affect their promotion and career advancement.
Black says that from her involvement in BHW, she noticed that most of the successful engagement to promote a healthier workplace is led by the management at the top where the CEO and people involved in finance play an active role.
When the CEO and other members of management are on board on the agenda, it sends a message to the entire company that the employees' well-being is an asset to the company and that it will impact the company's growth.
"This is where I'll start along with retraining for managers. We need to address the middle managers so that they understand about people management. A lot of times, we hire people to become managers based on their technical expertise, expecting them to know how to manage people.
"With training and awareness, we could create a culture that encourages engagement and avoids a bullying culture. The awareness of mental health needs to be emphasised and managers will also realise that it is important to give employees rest and even time-off to see a psychologist if there is a need," Black adds.
With mental health revealed as one of the key issues in the Malaysia survey last year, focusing on engagement at board and management level as well as training and awareness of the importance of employees' wellness will be a good way to start for Malaysian corporations.
Black notes that a positive culture is important to drive the success of these interventions. She cites the culture of long working hours in Asia, including Malaysia.
"They (managers) must tell their employees that it is not right to work until late at night every single day. It's just not sustainable. Some companies have restricted email flow after certain working hours to do that," she says.
While she acknowledges the importance of meeting deadlines and occasional long working hours, she says corporate leaders need to build a culture that promotes work-life balance. It is worth noting that in France, a law was passed last year, banning work emails after working hours.

Feedback on first survey indicates Malaysian companies care for their employees
Based on the feedback from the first survey done last year, AIA remains optimistic and hopeful that its aspiration to make Malaysia a healthier and more productive nation will be realised.
"Of important feedback we received from participating employers was that the organisational health report they received was very detailed and comprehensive," says Anusha.
"It highlighted issues like presenteeism, which refers to employees who are physically present at work but who are unable to focus on their tasks because they are unwell. They also appreciated insights into other behaviours and factors that negatively impacted the health of employees, particularly lack of sleep, long hours spent at work, stress brought about by financial concerns as well as other known behaviours such as poor eating, physical inactivity and smoking."
Instead of feeling negative about the data, most of the companies have taken it positively and responded that the "data is valuable as it could be used to convince their management to invest more in the right programme for their people, having identified what exactly needed improvement, ways to include top management's involvement and how to drive these programmes to their people."
Anusha says most of the companies found that the survey identified the gap that allowed them to explore better-suited programmes for their employees.
The feedback also showed that the objective of launching the survey last year — to help employers understand their employees' health and well-being profile, inspire them to adopt policies and pursue proactive programmes that lead to a healthy workplace and in the process boost workforce engagement and productivity as well as to promote greater awareness and increase action and discussion on workplace health — had been met.
Anusha hopes that companies that participated last year will also take part this year so that they can track changes in the health and well-being profile of their employees and gather more data to examine trends and study comparisons.
She says companies that did not sign up last year should take the first step towards creating a healthy and happy workplace for their employees.
"In the long run, we want to continue to foster conversations on workplace health and spearhead the movement to create a healthier workplace for Malaysians. It is our hope that we will be able to continue this initiative to make Malaysia a healthier and more productive nation for all," she adds. Malaysia's Healthiest Workplace by AIA Vitality 2018 is free to enter and is open to any organisation with a minimum of 20 employees. Registration is open until the end of May.
The survey will identify Malaysia's Healthiest Employer, Healthiest Employees and Healthiest Workplace across three organisation categories by size — Small Organisation (20-249 employees); Medium Organisation (250-999 employees) and Large Organisation (1,000 employees and more). This year will also feature a new award category — Malaysia's Most Improved Workplace — that is open to companies that participated in the 2017 survey and that will be participating again this year. Winners will be announced at the end of the year.
Companies that take part in the survey will each receive a comprehensive organisational health report, which will include findings from both employer and employee responses. AIA will also provide each participating employee with a personal report of their health and well-being in terms of lifestyle, clinical indicators, mental health, stress and other areas that may concern them, as well as their AIA Vitality Age.
---
The Edge is the media partner of Malaysia's Healthiest Workplace by AIA Vitality 2018
Register today at healthiestworkplace.aia.com