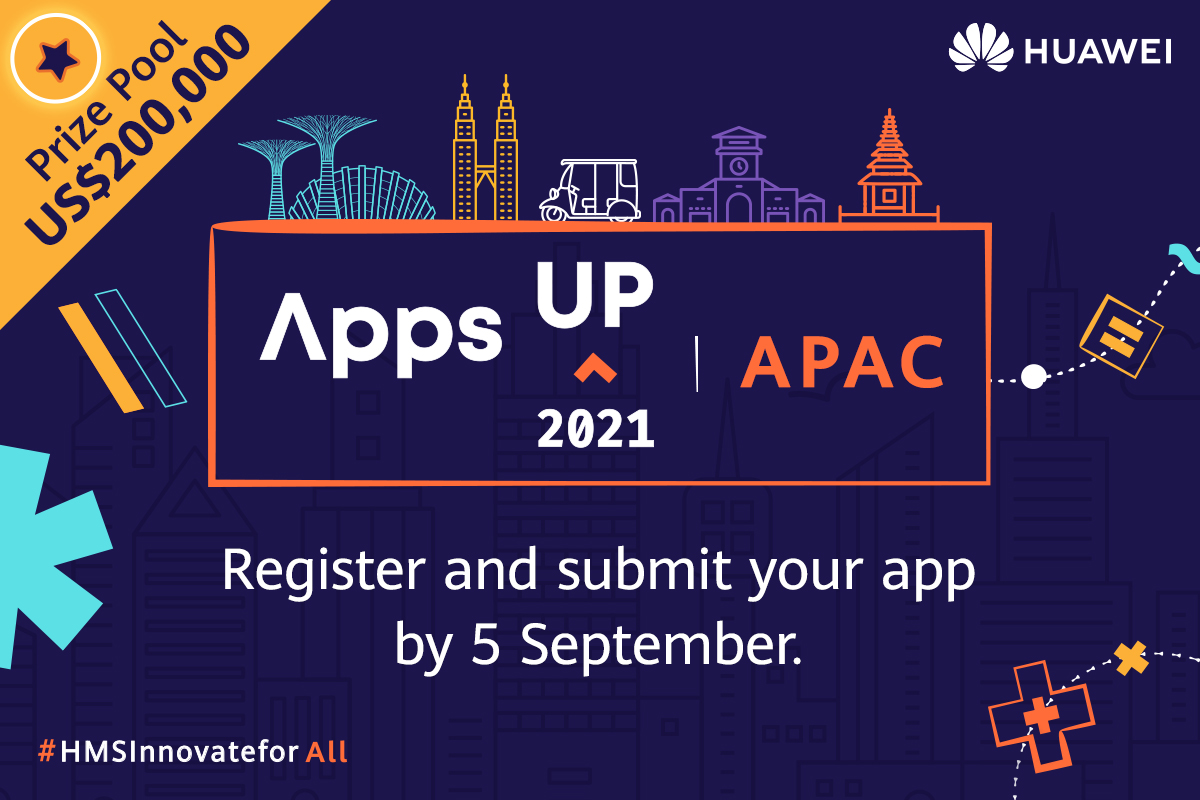 According to a recent report, the global mobile application market was valued at US$111 billion in 2020. Based on insights from Allied Market Research, the app market is projected to reach US$400 billion by 2026. Apps are not just big business, they have also changed the way we interact with the world. As a result, the demand for apps continues to grow by leaps and bounds.
For developers and app creators, getting a piece of this proverbial pie is easier said than done. Not only do they have to build upon a concept or an idea, they are also hampered by tight budgets. With new apps entering the market daily, many start-ups are at a disadvantage, especially when competing with top market players.
Fortunately, Huawei is helping to overcome this deficit by inspiring and supporting mobile app developers around the world through growth hacking. The strategy helps level the playing field by optimising each step in the mobile app life cycle, with the company providing start-to-end support for its app partners, from technical resources to marketing channels, allowing participants to achieve growth quickly and effectively.
Growth hacking utilises the expertise of marketers, engineers, developers, and product owners during the product development process and consumer journey to enable start-ups to reach a bigger audience in a shorter time and at a lower cost.
To help push the initiative forward, the global tech giant has launched the AppsUP 2021 — Huawei HMS Innovation Contest for the second year running, providing a stepping stone for developers to enter the global market and bring smart life services to Huawei device users in more than 170 countries.
Achieving success through expert insights
Similar to last year, Huawei has assembled a panel of experts and judges who will provide their expertise and valuable insights for this year's competition. According to Jojo Flores, co-founder of Plug and Play Tech Center, Huawei's AppsUP 2021 provides an invaluable pathway for developers to reach the consumer market.
"An app always needs to reach its users. Creators will need to learn how to market their apps since these will not sell themselves, especially in the initial stages and before they go viral. Establishing channel partnerships is one key step in making this happen, and building one with platforms such as HUAWEI AppGallery becomes vital to product success," he says.
Ryan Chan, global head of business development at Malaysia Digital Economy Corporation (MDEC), agrees. He points out that having a mobile ecosystem like AppGallery is good for both consumer choice as well as driving innovation among developers and app creators.
"They can leverage Huawei's robust technology platform and rich ecosystem to deliver new mobile app experiences to their consumers," he says. "On top of that, this represents a new addressable market that is still growing. So, app developers should definitely look at plugging into Huawei's mobile ecosystem."
Although having an idea for an app and seeing that vision through provides the base for development, it represents just the first step in the app creation journey.
Gwen Guo, chairperson of the Singapore Games Association (SGGA), explains that developers also need to focus on improving their apps' visibility to drive downloads and user engagement. "They need to explore data-driven decisions — study the target audience's purchases and engagement habits and then craft the app's marketing plan based on that information," she says.
Developers should also form a relationship with their launch platforms, understand what features these platforms have to boost visibility, whether it is a featured page, new apps list or seasonal collection.
Having said that, AppsUP 2021 participants, and any app developer for that matter, should never forget the basics. Adam Ardisasmita, co-founder and CEO of Arsanesia, emphasises that when it comes to apps, the key to success is to always present a smart solution for a complex problem using a simple approach. "Freshness, uniqueness and simplicity are the main ingredients for a good app product," he adds.
Giving app creators a chance to shine
The annual global app innovation contest is running separately across five regions, serving as an integral platform for developers to accelerate their way to the global market by leveraging the world's third largest mobile ecosystem. Through the contest and by onboarding their apps to AppGallery, creators and developers can access more than 730 million Huawei smartphone users across the globe.
According to Shane Shan, director of APAC Huawei Consumer Cloud Service, the 2020 Huawei HMS App Innovation Contest attracted more than 3,000 teams from around the world. The apps came under multiple categories, including healthcare, finance, utility, entertainment and social media. Collectively, they presented another step towards building an all-scenario mobile experience.
This year's Asia-Pacific edition will feature 10 award categories — Best App, Best Game, Best Social Impact Award, Honourable App Award and Most Popular App Award, as well as new categories, namely AppGallery Rising Star Award, Best Fintech Innovation Award, Best HMS Core Innovation Award, Excellent Student Award and Tech Women's Award.
Twenty outstanding apps will be selected based on their social value, business value, user experience and innovativeness. A total of US$200,000 in cash prizes will be offered to the Asia-Pacific winners of the contest.
Ultimately, Huawei intends to grow AppGallery into more than just an official platform to download apps, according to Shan. "We are working towards positioning AppGallery as a 'boutique app market' to help users discover up-and-coming apps that are like 'hidden gems'."
Through initiatives such as AppsUP 2021 and growth hacking, as well as having passionate developers and tapping the company's expertise in technology, the tech giant is aiming to build a global, seamless and intelligent ecosystem across devices.
For more information on the competition, including the schedule for upcoming workshops and panel of judges, visit the official website. Register for a Huawei Developer account here to get a RM5 Grab Gift Card. Refer to the AppsUP website for the terms and conditions.