Many digital transformation conversations among business leaders used to revolve around how to manage the transition from traditional brick-and-mortar to digital models and processes. Today, almost all  businesses, whether fully online or bricks and clicks, would be considered digital businesses. Even roadside hawkers have supplemented the way they do business by using Grab or Food Panda services, compelled especially by lockdown requirements in the COVID-19 period.
People are incredibly adaptive when facing a crisis, and Malaysian businesses have robustly turned to seek out better, faster and more agile ways of innovating. With COVID-19 becoming endemic over time, digital transformation continues to accelerate as an ideal path to growth and recovery.
The escalation of digital adoption has been confirmed by IDC's latest release of Worldwide Black Book: 3rd Platform Edition, which shows Asia/Pacific's ICT spending, including IT spending in addition to telecom services and new technologies such as Artificial Intelligence (AI), Robotics, Cloud, Analytics, and IoT, will increase by 9.3% in 2021 to reach US$1.3 trillion. 
This healthy growth reflects the pivot by organisations towards rapid adoption of new technologies to face business disruptions as well as to drive growth.
Intelligent Cloud – A checkpoint of your cloud journey
From my conversations with customers and partners, I am pleased that more business leaders in Malaysia increasingly recognise that Cloud computing is the heart of productive  digitalisation. This bodes well for the nation as it demonstrates that almost all organisations are now 'getting it right' - by leveraging the power of Cloud in one way or the other.
However, success is relative, not absolute. As a winner is usually the one who runs ahead of others, just getting it right is not enough anymore. The real prize today rests in whether your business is 'intelligent' enough.
Of course, winning does require enterprises to be able to meet customers' consistently changing needs, at speed. It also demands agility and data-driven, automated processes. Compared to a traditional cloud system, an Intelligent Cloud approach takes transformation to a higher level of performance because it is aligned to the ongoing journey of digital transformation. 
An intelligent Cloud will include the use of edge computing to process data closer to where it is collected, and it will make use of AI and machine learning (ML) to deliver actionable  insights, at greater speed and enhanced efficiency. 
Real world business benefits from intelligent cloud are demonstrated by the example of a large logistics company which saw speed and efficiency wins. Some of the gains included improvements of 30% in pickup efficiency and 5% in transportation path planning through use of AI in pickup path planning; while waybill single-check improved 3 times and VAT invoice processing rates improved by 10 times.
To become an intelligent digital enterprise, organisations need to leverage three (3) main elements - intelligent infrastructure that is flexible, scalable, automated and predictive;  intelligent data, which is secure and collected at a massive scale; and intelligent applications and business processes that are powered by AI/ML.
To take stock of your current Cloud execution and to assess whether it is intelligent enough, I would suggest the IDC's Cloud Maturity Framework.
At the ad hoc level, an organisation may still be exploring project-specific Cloud applications as a reaction to the competition. As it starts to build more applications on the Cloud, it evolves into becoming a digital explorer, but is still considered to be in a reactive mode, and therefore results in a poorly integrated solutions environment. 
Only by moving up the Cloud maturity level, to becoming a digital transformer or disruptor - will it possess the capabilities to survive and move upwards in this fiercely competitive and challenging era.
Indeed, in some sectors where digital transformation has become an absolute imperative, such as the financial services sector, more organisations have grown into becoming digital players or transformers to stay ahead.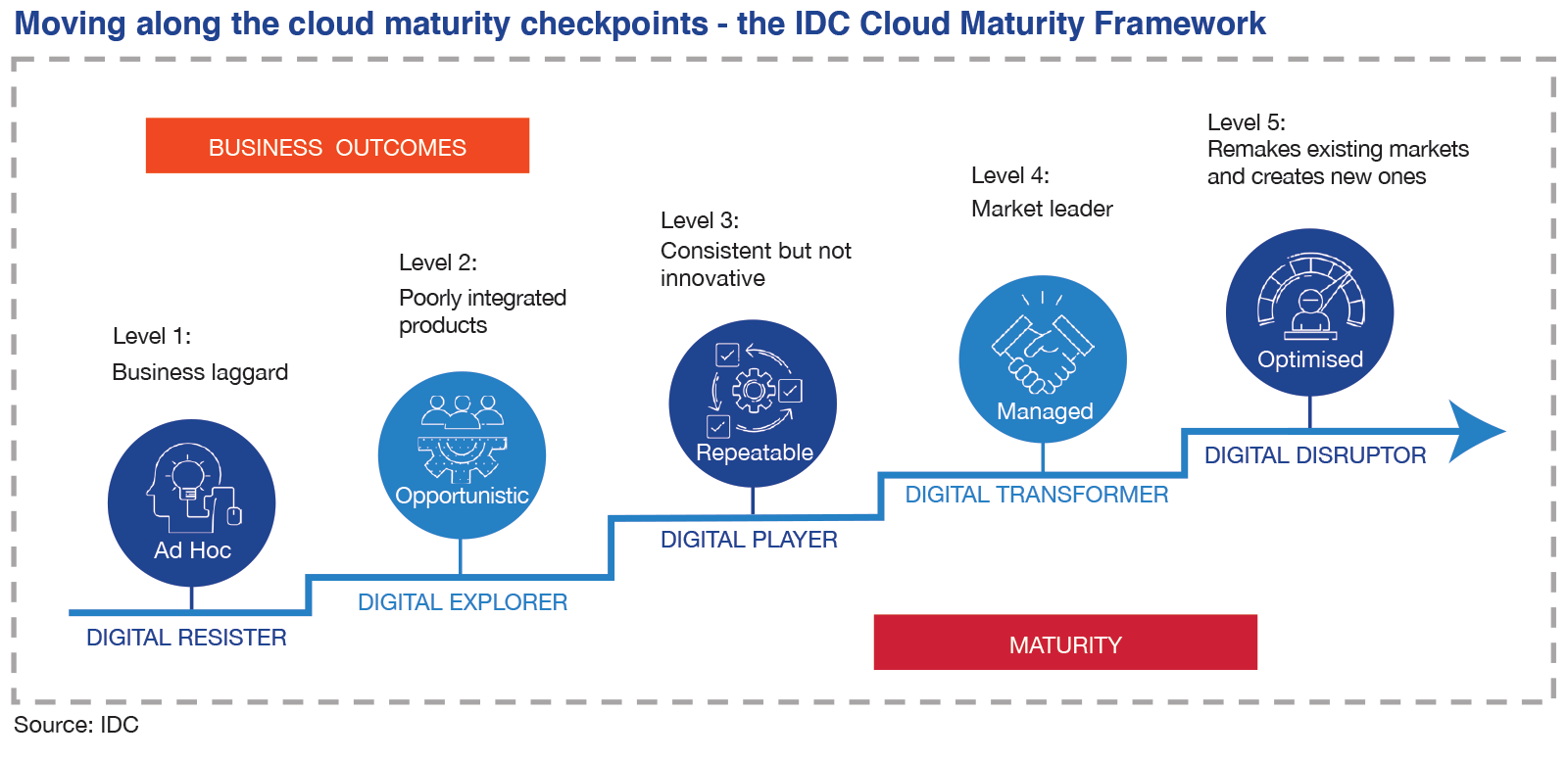 Cloud intelligence – the Cloud that matters
Powered by AI, the application of Enterprise Intelligence in the Cloud is helping to successfully modernise industries. Rapidly evolving technologies have helped to form a foundation of core Cloud benefits, which include enhanced efficiencies, facilitating core expertise and to create trend-setting achievements.
Examples of what these frontier technologies offer include data enablement services such as big data, data lake and data warehouse - as well as containerisation and microservices - which are tantamount to a key engine to upgrade industry intelligence. 
Together with intelligent edge and intelligent network connectivity, which will be further enhanced by the emergence of 5G, we can confidently look forward to an even greater surge of implementations of innovative services and solutions in the market in the near future.
The additional critical attributes of a well envisioned and managed digital transformation strategy comprise: robust, reliable, and low latency connectivity; excellent Cloud and  cybersecurity design and implementation, which must be effectively tailored to the needs of your organisation; and probably the most important in my personal opinion is the best team of  professional and managed services to help facilitate and optimise your Cloud journey throughout the pre-, during- and post-deployment phases.
TM ONE Alpha Edge – the Intelligent Industry Cloud Platform
Deeply committed to taking transformation forward for Malaysian enterprises and the public sector, TM ONE's Alpha Edge, the hyperscaler Cloud service and part of Cloud Alpha offerings, is powered by AI capabilities to enable organisations to seamlessly onboard the intelligent Cloud. We are also continuously developing tailored solutions for key verticals in collaboration with partners and customers.
Our comprehensive suite of solutions encompasses intelligent Cloud, robust and multi-type digital connectivity, cybersecurity, local expertise in professional and managed services, and which rightly positions TM ONE to help industries revolutionise themselves, reshaping businesses and cities, and bringing new possibilities to Malaysia in the important days that lie ahead.
There is no limit to innovation. Any organisation, big or small, can innovate ground-breaking solutions to better serve its customers. To deliver the best solutions and customer experience, TM ONE works with the best partners. This is an important aspect of our commitment to taking transformation forward for all Malaysian enterprises and public sector institutions.
Click here to know more about TM ONE Alpha Edge.