This article first appeared in The Edge Malaysia Weekly, on December 26, 2022 - January 08, 2023.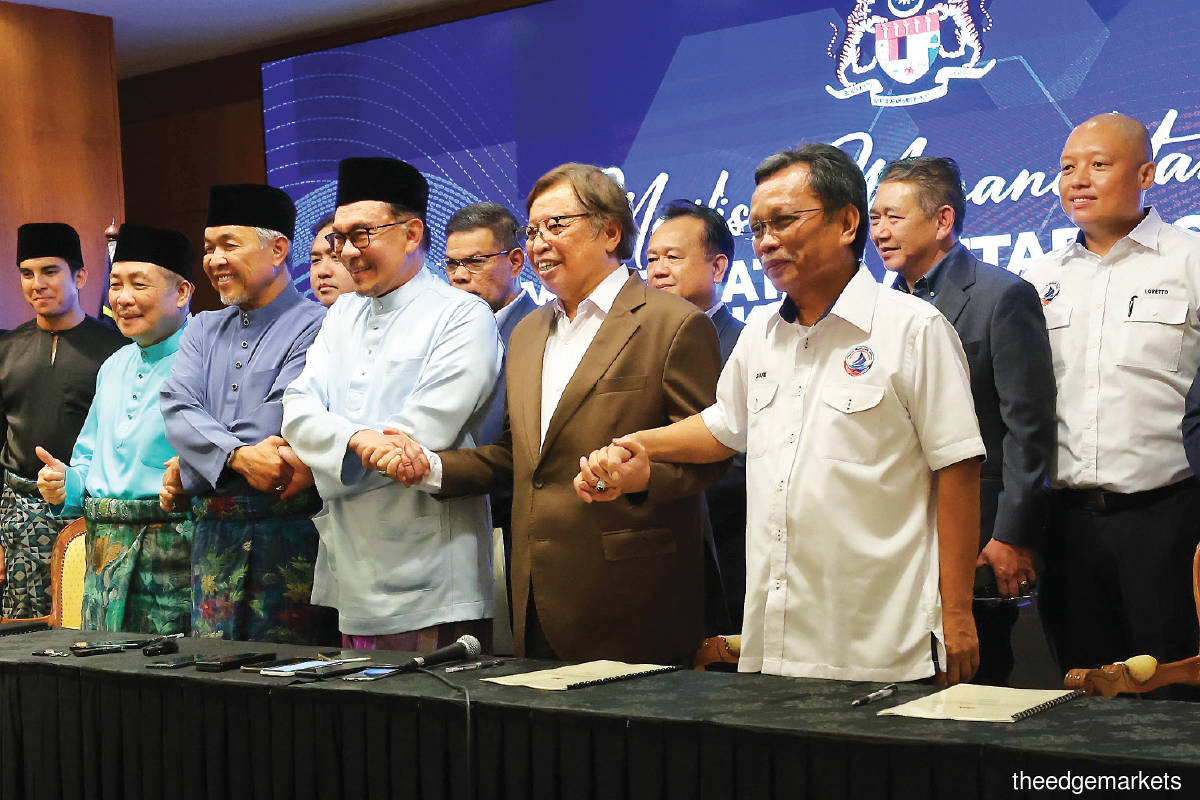 MALAYSIA's politics had a watershed year in 2022, which will determine the course of the country in the short and medium term. The results of the 15th general election (GE15) in particular will have consequences for the dynamics of Malaysian politics for years, and perhaps decades, to come. After being ignored by the politicians for 4½ years, the people finally made their voice heard.
GE15 resulted in a hung parliament, where none of the coalitions and parties managed to secure a simple majority to form a government. But, in the end, this hung parliament resulted in a government that controls more than two-thirds of the seats in the Dewan Rakyat. The last time Malaysia had a government with a two-thirds majority in parliament was back in the term between 2004 and 2008.
Datuk Seri Anwar Ibrahim secured the two-thirds majority by entering into a memorandum of understanding (MoU) with the coalitions that formed the government. Among the major conditions of the MoU was that the government would serve for a full term of five years.
Will this become the precursor to the return of political stability in Malaysia? Political analysts are mixed in their views.
"This coalition government agreement and the anti-hopping law it draws strength from cannot exclude a government collapse caused by the pullout of parties," says Prof Wong Chin Huat, professor and deputy head (strategy) at the UN Sustainable Development Solutions Network (SDSN) Asia headquarters of Sunway University. "But it can stop that caused by individual MPs (members of parliament) trading their mandate (which has been), the main cause of political instability since 2020. So, yes, it helps tremendously in stabilising Malaysian politics."
Nonetheless, he says, the two-thirds majority may not be a stabilising factor, as it may instead induce government parties to fight on one hand and radicalise the opposition to go further on communalism out of desperation. Investors must not misread Malaysia today based on the old Malaysia before the 1990s, Wong cautions.
His opinion was echoed by Dr Zokhri Idris, chief executive of the Policy and Economic Affairs Centre of Malaysia Foundation (PEACE). In a written response to The Edge's request for comments, Zokhri says that GE15 did not put instability to rest, but rather intensified it.
"Having no coalition able to secure a majority is a precursor to instability. The sitting prime minister is at risk to vacate, should components decide to pull back their support in the event demands are not met.
"It will then create politics of accommodation instead of politics of national development. The sitting prime minister (as well as the ruling coalition) will have to accommodate other parties/leaders in order to retain its power," says Zokhri.
Looking back at how the current government was formed following GE15, it can be said this was the most complicated formation of a government following the conclusion of a general election. In the wee hours of Nov 20, it was clear that no coalition had won a simple majority to form the government. The gains made by Perikatan Nasional (PN), especially in Malay-majority seats, gave the coalition leaders the confidence that it would be able to form the government.
PN won 73 seats, making it the second-largest coalition in parliament, behind Pakatan Harapan (PH) with 82 seats. However, it was PN chairman Tan Sri Muhyiddin Yassin who first claimed victory, saying that the coalition had been "invited" by Istana Negara to form the government.
At first, it looked like PN had managed to form a coalition government with other coalitions, including Gabungan Parti Sarawak (GPS), Gabungan Rakyat Sabah (GRS) and 10 MPs from Barisan Nasional (BN). Two things happened that denied PN the chance to become the government of the day.
First, BN as a coalition denied having agreed to form a coalition government with anyone. Its chairman Datuk Seri Zahid Hamidi in a statement on Nov 20 said that all BN MPs who had won in GE15 had signed a pledge and given him the mandate as chairman to determine any political coalitions to form the federal government. This was the first instance where the anti-party hopping law was leveraged upon.
Zahid said that since all the candidates had signed the pledge, any MPs who went against party orders would be stripped of their membership as well as lose their seats, in line with the law. This tied the "10 MPs" from BN who were said to have negotiated with PN to form a government.
A second factor was the reaction of the rakyat, especially those who did not want to see the formation of a Malay-Muslim supermajority government, as it would go against the social fabric of Malaysia. Had PN, BN, GPS and GRS formed the government, it would have been one that is heavily Malay-Muslim-based. This was especially so as PAS had become the largest party in parliament after winning 43 seats.
Following PAS, Parti Pribumi Bersatu Malaysia had 30 seats for PN's 73, plus Umno's 26 seats. This meant at least 99 seats of the government would be controlled by Malay-Muslims, led by PAS.
There are also GPS and GRS seats won by bumiputera Muslim MPs.
During the campaigning in the run-up to GE15, PN, especially PAS, did not shy away from playing up the religion card to garner support from the conservative factions of the Malay and Muslim community. The Christian population of Malaysia was demonised when PN said that the Jews and Christians were going to rule Malaysia through their proxy, PH. This caused ire among the Christian population of the country.
Malaysia has a significant Christian minority which makes up about 9% of the population, and forms the majority in Sarawak. When GPS declared its support to form the government with PN, many criticised the decision, including some of its bumiputera Christian leaders.
GPS then backtracked on Nov 23, and said it would follow the advice of the Yang di-Pertuan Agong on the formation of the government. As BN had decided to throw its support behind Datuk Seri Anwar Ibrahim as prime minister, GPS joined in to form the government.
On Nov 24, Anwar was then appointed by the Yang di-Pertuan Agong Al-Sultan Abdullah Riayatuddin Al-Mustafa Billah Shah as the country's 10th prime minister. The PH-led coalition government has 146 seats, controlling more than two-thirds of parliament for the first time since 2004.
MoU gives breathing space from politicking
To reinforce their support for Anwar as the PM, the coalitions that formed the government entered into an MoU that will govern their conduct for the next five years. This includes the provision that the government will not be dissolved until the end of its term.
Political observers see this as providing "breathing space" for the coalitions and parties to focus on reforming themselves, especially for Umno. However, time is running out for Umno to do so as it will face six state elections, which will have to be called by August or September 2023.
According to Wong of Sunway University, for Umno to come back stronger, it would need to stop its addiction to incumbency advantages, such as abusing government resources to win votes and marginalising opposition politicians and supporters.
Despite the breathing space afforded by the MoU, all of the major coalitions will be looking at ways to win the next election. PAS would want to continue its march towards Putrajaya through a legitimate mandate by the people.
Zokhri of PEACE sees PAS' march towards Putrajaya as dependent on four conditions. First, PAS needs to continue working with Bersatu, as together their hold on Malay seats would strengthen, and second, function as a shadow cabinet to provide checks and balance in parliament. PAS must also not replicate the mistakes of Umno, such as allowing corruption, misappropriation of funds and the misuse of political power to grow unchecked, says Zokhri. The last factor would result in the further deterioration of Umno, which will make way for PAS to further strengthen its position among the Malays.
But does this mean PAS and its partners in PN need to go all out as a far-right bloc in their bid to form the government?
Wong says that PN should not drift further to the right, as that will only reduce its support among the Malay-Muslim middle-ground voters.
The endgame for PN in the next five years is to oust Umno and become the sole player in the Malay-Muslim conservative and nationalist electoral market, says Wong. On this, the government will actually play a role in whether or not PN moves further to the right.
"If PN is marginalised and discriminated against in constituency allocation and parliamentary performance, then it makes sense for PN to go on a 'scorched-earth strategy' in desperation. And this strategy may pay off," says Wong.
This is because PN would be able to communalise the anti-corruption agenda into a religious issue, and turn it into some form of a "jihad". If the coalition government gives PN room to play the role of a responsible opposition, with recognition of and pay given to its shadow ministers, then PN cannot portray itself as a victim to fan communal hatred, he adds.
Instead, the Malaysian public will raise their expectations of the salaried shadow ministers, who will either have to show their competence in policy and governance — hence, reducing the communal hatred attacks — or lose the support of the Malay-Muslim middle ground, he says.
Reformasi stalled?
With BN an integral part of the coalition government, will the reform agenda espoused by PH stall? The reform agenda will still be implemented, but it will happen on a minuscule level, says Zokhri.
The reviewed electricity tariff that will see big industries having to pay more, while domestic users and SMEs (small and medium enterprises) are exempted, is an example of targeted subsidy, which is one of the items on the economic reform agenda, says Zokhri. However, the government will take governance-based reforms gradually, so as not to stir the "unity" boat, he adds.
"From the socio-economic policy standpoint, economic reforms take priority as Malaysia had ratified the RCEP (Regional Comprehensive Economic Partnership) and CPTPP (Comprehensive and Progressive Agreement for Trans-Pacific Partnership), which require the country to commit to certain reforms and changes. As long as we continue to do so, our competitiveness will be on a good track and Malaysia will re-emerge as the most attractive market in Southeast Asia," he says.
One reform agenda that will not be jeopardised is the Malaysia Agreement 1963 (MA63), as the Borneo bloc of GPS and GRS will ensure that their demands are met by the government. The Borneo bloc provides 29 seats to the government, excluding three from Parti Warisan Sabah, and the single seat from Parti Bangsa Malaysia.
However, the implementation of MA63 must balance the needs of the peninsular states with those of Sabah and Sarawak. The demand for Sabah and Sarawak to have one-third of parliamentary seats must be weighed against the principle of fair representation for the electorate.
Wong of Sunway University opines that a multilateral deal must be made among all of the states and regions of Malaysia, rather than just between Sabah, Sarawak and the federal government. This is because peninsular politicians will not agree to a partial decentralisation, unless their states also benefit, he says.
All in all, from the first hung parliament to the return of a supermajority government within weeks, the political scene in Malaysia seems to have been reset in 2022 with a new stage being set, where the players will return in five years' time.
From blogosphere to TikTok, how the political stage changed within a generation
Over the last 14-odd years, information dissemination in Malaysia has changed tremendously with the proliferation of the internet and smart devices. The internet liberalised the country's long-shackled media industry, culminating in the results of GE15.
In March 2008, when Barisan Nasional was first denied a two-thirds majority in parliament in GE12, the media landscape was very much divided between the traditional media of newspapers, radio and television, as well as the then-nascent online portals and blogs. Several news portals emerged prior to the election, purportedly funded by select politicians who wanted to see a regime change within Umno and BN. The then prime minister Tun Abdullah Ahmad Badawi underestimated the threat of the online portals, which led to his political demise.
Then, came the 2013 general election, which was the first election for the then PM Datuk Seri Najib Razak. At that point in time, while the online portals were maturing and becoming more influential and credible, especially among the urban voters, Facebook emerged as a medium of information.
One name that is associated with helping political campaigning on Facebook is Cambridge Analytica. An offshoot of SCL Group, a British behavioural research and strategic communication company, Cambridge Analytica collects personal information of users and their behaviour on Facebook to be analysed for many purposes, including targeted political campaigning.
When the data-mining scandal involving Cambridge Analytica and Facebook came to a head globally in 2017 and 2018, Malaysia was one of the countries that was said to have had election results influenced by Cambridge Analytica's services.
In March 2018, weeks prior to GE14, Najib denied involvement with Cambridge Analytica in the 2013 election. However, his office had pointed to Datuk Seri Mukhriz Mahathir, who had been given advice by Cambridge Analytica in the 2013 election.
Coming to the historic GE14 in 2018, the political fight had moved towards Twitter.
On Twitter, many Malaysians banded together to plan the journey back to their respective hometowns, or gather postal votes to be sent back home, if they were living abroad. Twitter became the base of the movements against BN and Najib, as news was quickly shared across the platform and reached a wider audience than Facebook and the blogs previously had. With a "retweet", news or information was shared throughout the Twitterverse. As a result, Malaysia saw its first regime change since Malaya's independence in 1957.
Today, with the franchising of youths between the ages of 18 and 20 through Undi18, as well as automatic voter registration, the stage has switched to TikTok. The China-based social media platform had been used extensively and effectively by Perikatan Nasional in its campaign. Tags such as "PNBEST" and "Bersih dan Stabil" were widely used on TikTok. Short-form videos explaining issues and disseminating information — and even disinformation — were posted and quickly became viral.
It led to accusations that PN had the largest war chest among the politicians, as many of those videos seemed to be scripted and promoted — which require payments. PN stayed mum on this allegation. However, recently, it accused the government of trying to stifle freedom of speech on TikTok.
With technology becoming more advanced by the day and as more people get connected to the internet, it is anyone's guess where the political stage will take place in the next general election. Perhaps, campaigns will be carried out through artificial intelligence and virtual reality?
Targeted subsidies necessary for sustainability
By Cindy Yeap
When the Pakatan Harapan government kept its 14th general election (GE14) promise by capping retail prices of RON95 and diesel at RM2.05 and RM2.15 a litre from June 2018, it only had to spend about RM3 billion in fuel subsidies for the rest of that year.
Because Brent crude oil prices averaged even lower at about US$65 per barrel in 2019 and US$42 per barrel in 2020, the amount needed to keep the fuels subsidised at the pumps were even lower, according to figures released by the Ministry of Finance earlier this year.
The strain on government coffers only began to show in late 2021, when oil prices shot above the US$100 mark, shoring up subsidies for fuel to RM13.2 billion in 2021 and a whopping RM37.3 billion in 2022 — accounting for nearly half of the government's outsized RM77.7 billion subsidy bill this year.
More than half of the RM37.3 billion in subsidies for petrol, diesel and liquefied petroleum gas (LPG) may be going to the country's top 20% of earners (T20 — 53%) rather than the bottom 40% (B40 — 15%) or middle 40% (M40% — 32%), former finance minister Tengku Datuk Seri Zafrul Abdul Aziz told reporters in May.
Prime Minister and Finance Minister Datuk Seri Anwar Ibrahim said in a Dec 13 statement that more than 50% of electricity subsidies are going to conglomerates and those in the top 10%, or about one million of Tenaga Nasional Bhd's 10 million customers. That 50% could easily work out to RM4 billion to RM5 billion a year, going by previous indications of electricity subsidies being RM8.9 billion of the total RM77.7 billion.
Anwar has directed the relevant agencies and ministries to work out ways to better target subsidies.
Direct cash transfers to vulnerable groups would ensure the right people get aid. Some of that money could also come from a gradual reduction in subsidies to minimise shock and potential second-round inflationary effects.
Every 20 sen reduction in subsidies for RON95 petrol and diesel should yield RM5 billion in savings per year, or RM416.7 million per month, UOB Bank Malaysia senior economist Julia Goh told The Edge in July, a number that still applies today.
While global oil prices had retreated to US$80 per barrel levels, the prevailing retail price of RM3.35 for RON97 (unsubsidised) is still easily RM1 above the price ceiling for RON95 and diesel.
As acknowledged in the 2023 Economic Outlook report, blanket subsidies have "encouraged leakages and abuse of subsidised goods", and "continuous inefficient allocation of subsidies will adversely affect the long-term fiscal sustainability". A gradual move towards targeted subsidies not only ensures a more equitable distribution of resources but also increases the government's ability to spend on enhancing productive capacity, including public infrastructure in the health and education sectors.